Besides boiling water, how much more basic can you get than scrambled eggs? I'm not that big of a fan of eggs by themselves, therefore, I try to find new ways to eat eggs that make them more palatable to me. With this grain-free, dairy-free, sugar-free eating that I'm doing these days, eggs have become an essential part of my diet. I have noticed that my body craves more protein now that I have cut out sugar, grains and dairy. It's always important to listen to the queues our bodies give us.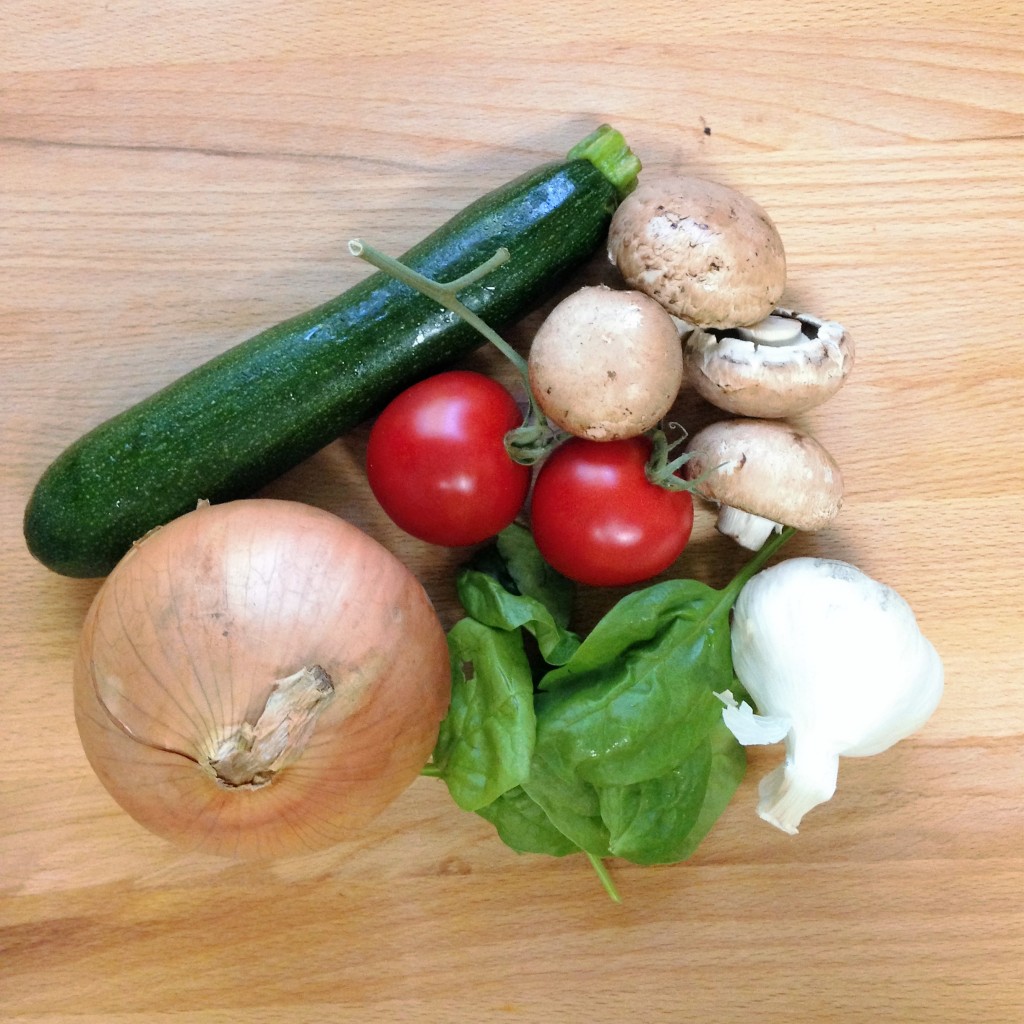 With summer's heat blazing on, there is a bounty of fresh in-season vegetables available. I decided to take advantage of the vegetables that I had in my kitchen and make a scrambled egg invention. It turned out marvelously! In the past month, I have eaten this at one point or another for breakfast, lunch or dinner, but not all on the same day. This recipe provides a good dose of protein as well as more than one serving of vegetables. And it's really great, because it will keep you satisfied and energized for hours. This recipe makes one large serving for one person as a complete meal, or it can be the main course at a meal with a variety of other sides. It would also be a great addition to a breakfast or brunch buffet!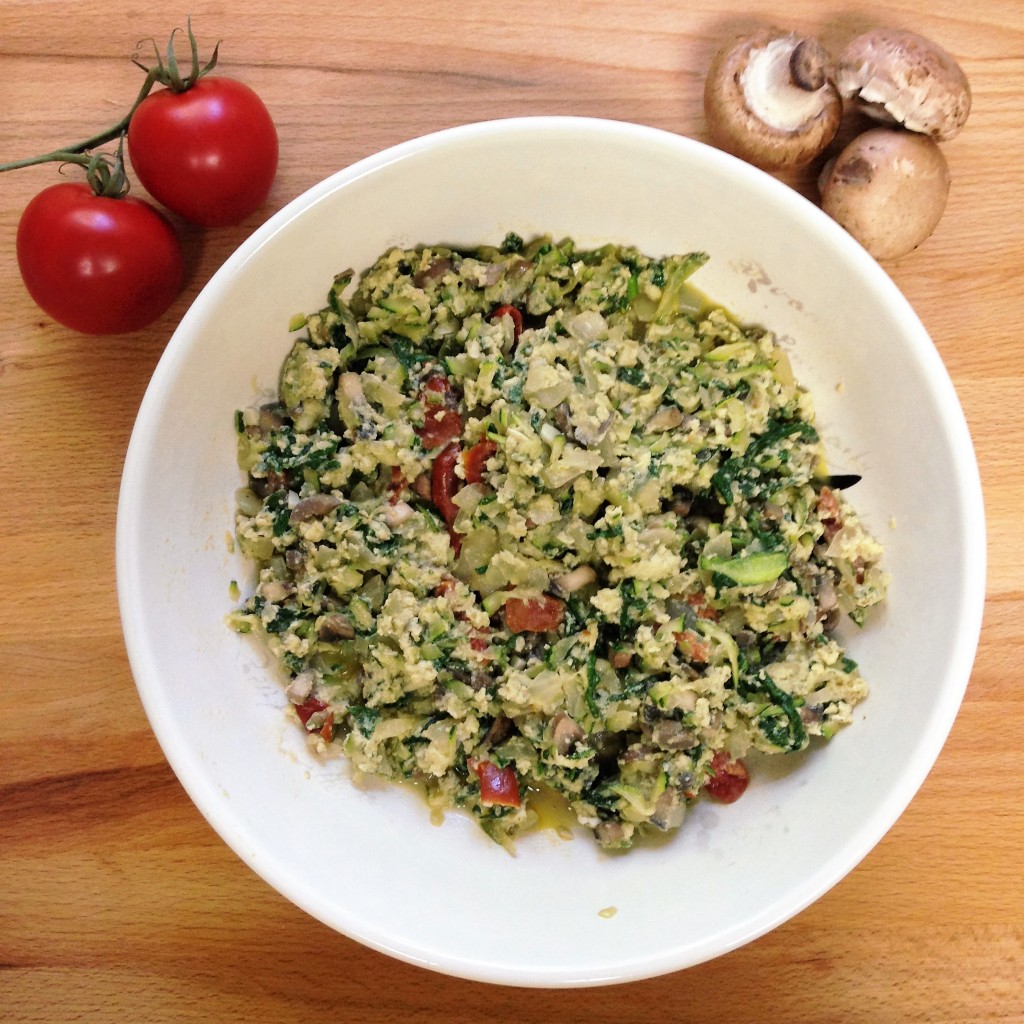 Best-Ever Scrambled Eggs
1-2 Tbsp. organic extra-virgin coconut oil, or bacon grease (a Southern favorite and my personal favorite)
1/2 yellow onion, finely chopped
4 cloves of garlic, finely chopped
1 organic zucchini, grated
4 mushrooms, diced
1 handful of organic baby spinach, cut into ribbons
2 small Campari tomatoes, diced
3 large, organic eggs, beaten
1-2 Tbsp. water
sea salt to taste
Heat oil in a large (cast iron, if you have it) skillet over medium heat. Add onion and garlic and sauté for about 5 minutes. Add zucchini and mushrooms and salt to taste and continue to cook for about another 5 minutes. Stir in the spinach and tomatoes. While this cooks, beat your eggs with the water and salt to taste. I beat the heck out of my eggs in a glass bowl with a fork. I'm convinced that this makes my eggs lighter and fluffier. Pour the eggs over the skillet full of sautéed vegetables and use a silicone spatula to stir it around. At this point, you might want to put a lid on your skillet and then open it to stir it occasionally until all the eggs are cooked. Once all the eggs are cooked, plate, sit and eat. Bon appétit!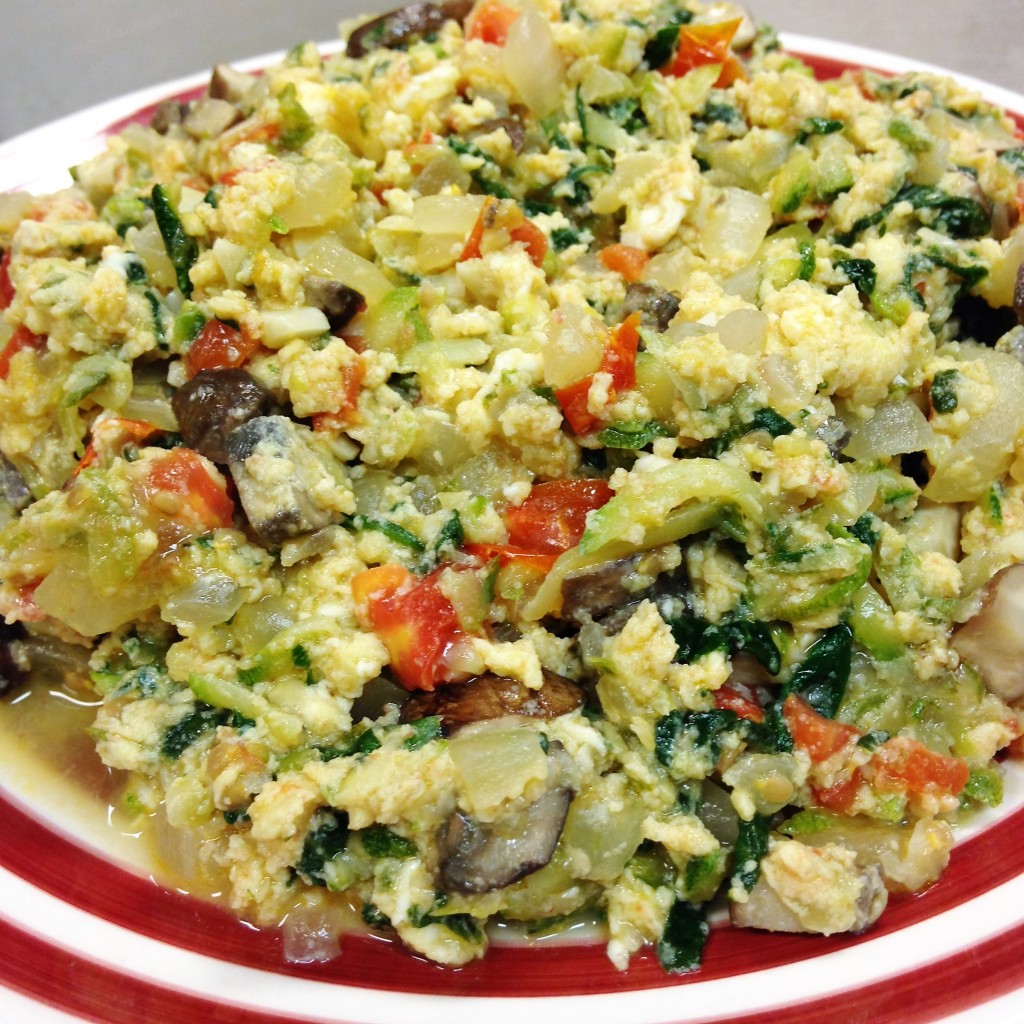 Have you tried this recipe? Do you have an even better recipe for scrambled eggs that is also dairy-free? Let yourself be heard in the comments section below!