For many years I have known that the key to fantastic pizza is the crust. The crust is the base for everything that gets added on. You must always start with a good base. Everyone has his or her preferred toppings, but the base or crust remains the same.
I have tried different recipes for different pizza crusts over the years. It was always a frustrating and disappointing experience. Within the last year, I read the book American Pie by Peter Reinhart, which is a book about the authors search for the best pizza. He traveled the United States and Italy eating all different kinds of pizza. Reinhart shares the story of his travels in the first half of the book and then shares recipes in the second half. After reading the stories, I decided to try his recipe for Napoletana pizza dough. The first time, I made the recipe exactly the way the recipe is written. It turned out well, even if the pizza crusts weren't exactly round or even in thickness. I'm not a professional pizzaioli. I decided to tweak the recipe to make the dough a little easier to work with, healthier and a bit more tasty.
So here's what I did. By using a mixture of organic all purpose flour and organic whole wheat flour, I made the dough stronger, so that it doesn't tear so easily, more healthy and tasty. I also added more salt that Reinhart called for. I use sea salt instead of kosher or iodized salt. If you don't like as much salt or are on a low-sodium diet, you can cut the salt in my recipe by half. Now, here's how you make it.
As you may know from reading earlier posts, I like to weigh my ingredients. Having exact measurements, especially when dealing with breads and bakery products, is extremely important if you want it to turn out the same each time. Even then, temperature and humidity differences can change your end result as well, but we don't necessarily have control over those factors. Therefore, it is important to control the factors that you can. With that said, I am going to give you the recipe with the flour and water by weight. If you want to convert it to cups, one cup of all-purpose flour weighs 4.25 ounces and one cup of whole wheat flour weighs 4 ounces.
First, combine 15 ounces of room temperature water with 1 teaspoon of instant yeast in the bowl of an electric mixer. Let this sit while you do the next step. Combine 12 and a half ounces of organic all-purpose flour, 10 ounces of organic whole wheat flour and 1 tablespoon of sea salt. Mix these together with your mixer's dough hook. Add this flour mixture to your water/yeast mixture. Mix with the dough hook on medium speed of your electric mixer for 4 minutes. Let the dough rest for 5 minutes, then mix at medium/low speed for 2 additional minutes.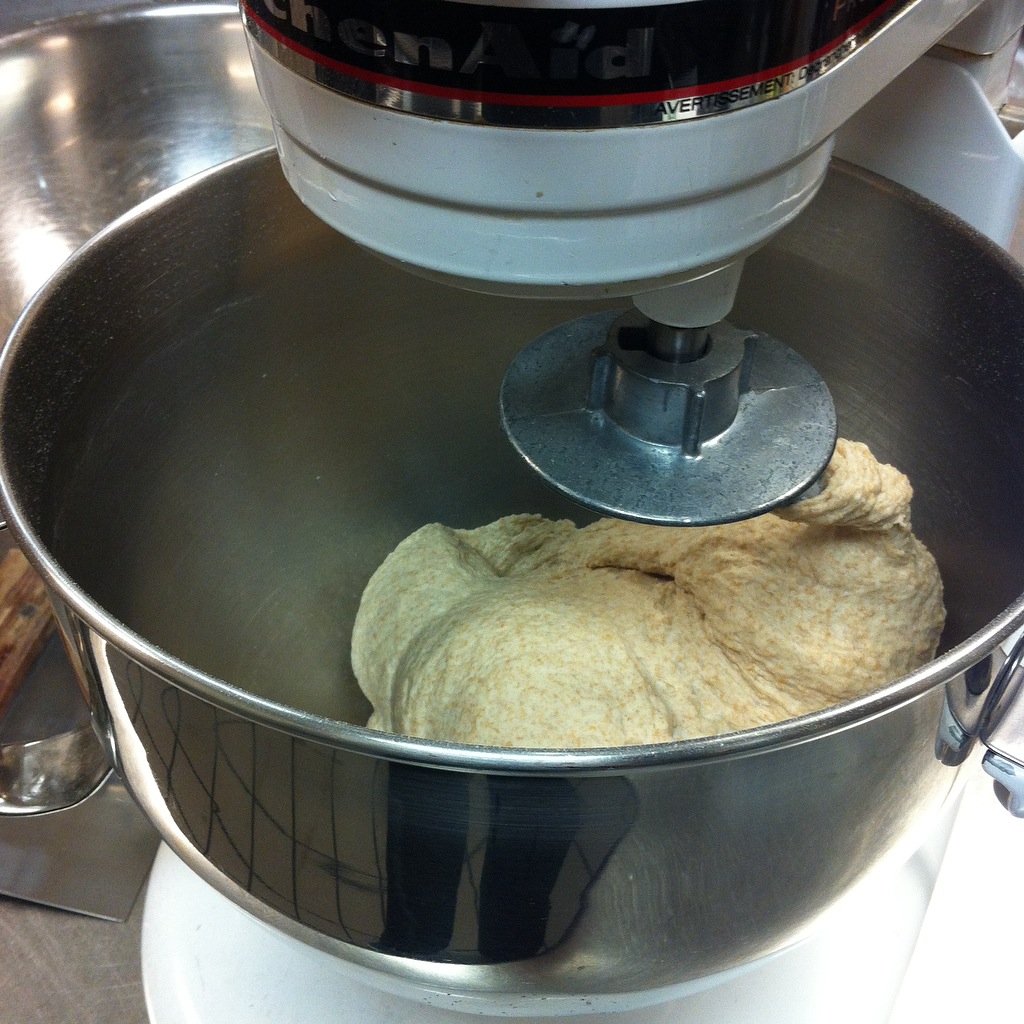 When you have finished mixing the dough, you will want to turn the dough out onto a floured surface, working the dough into a smooth ball.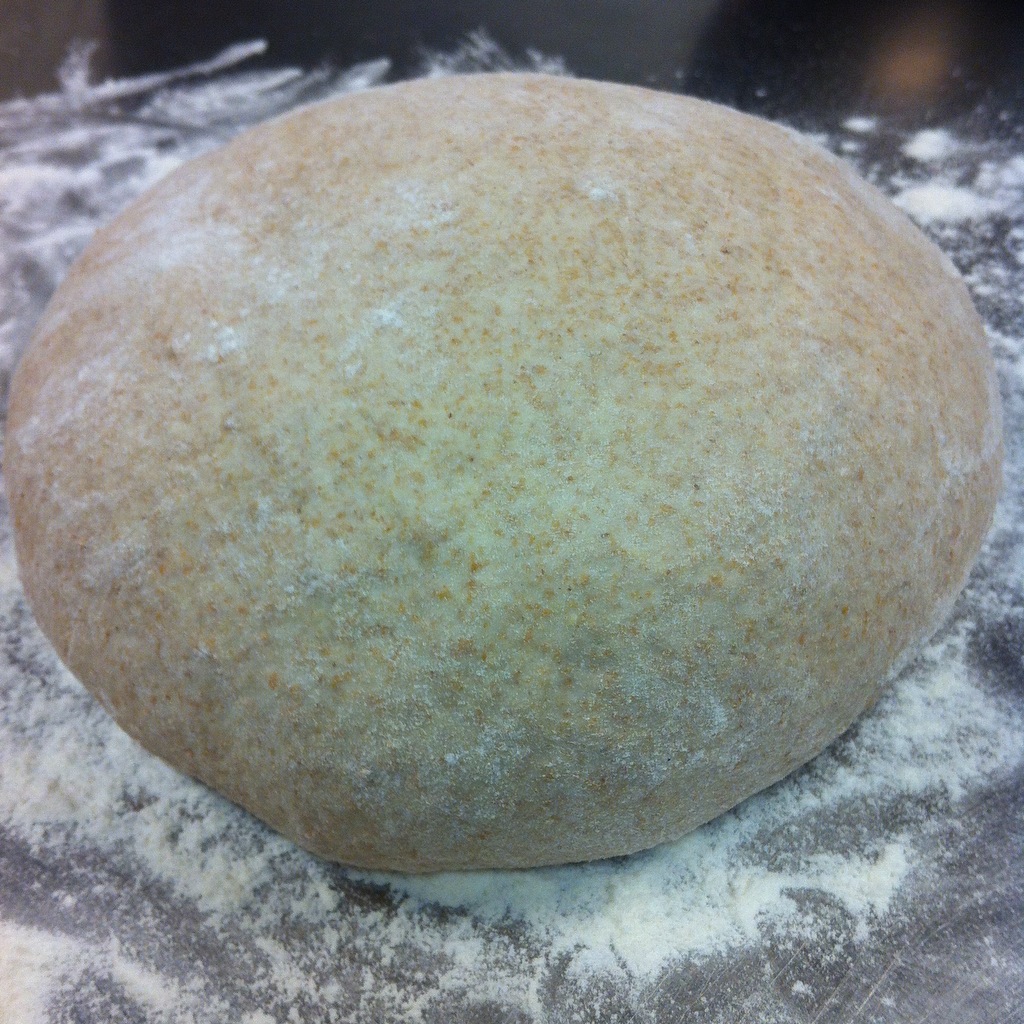 Oil a large ceramic or stainless steel bowl with your favorite oil (olive oil, coconut oil, butter, etc.). Put your dough ball into this oiled bowl, turning to coat all sides. Cover the bowl with plastic wrap and put in a warm area where it will not be disturbed for an hour and a half.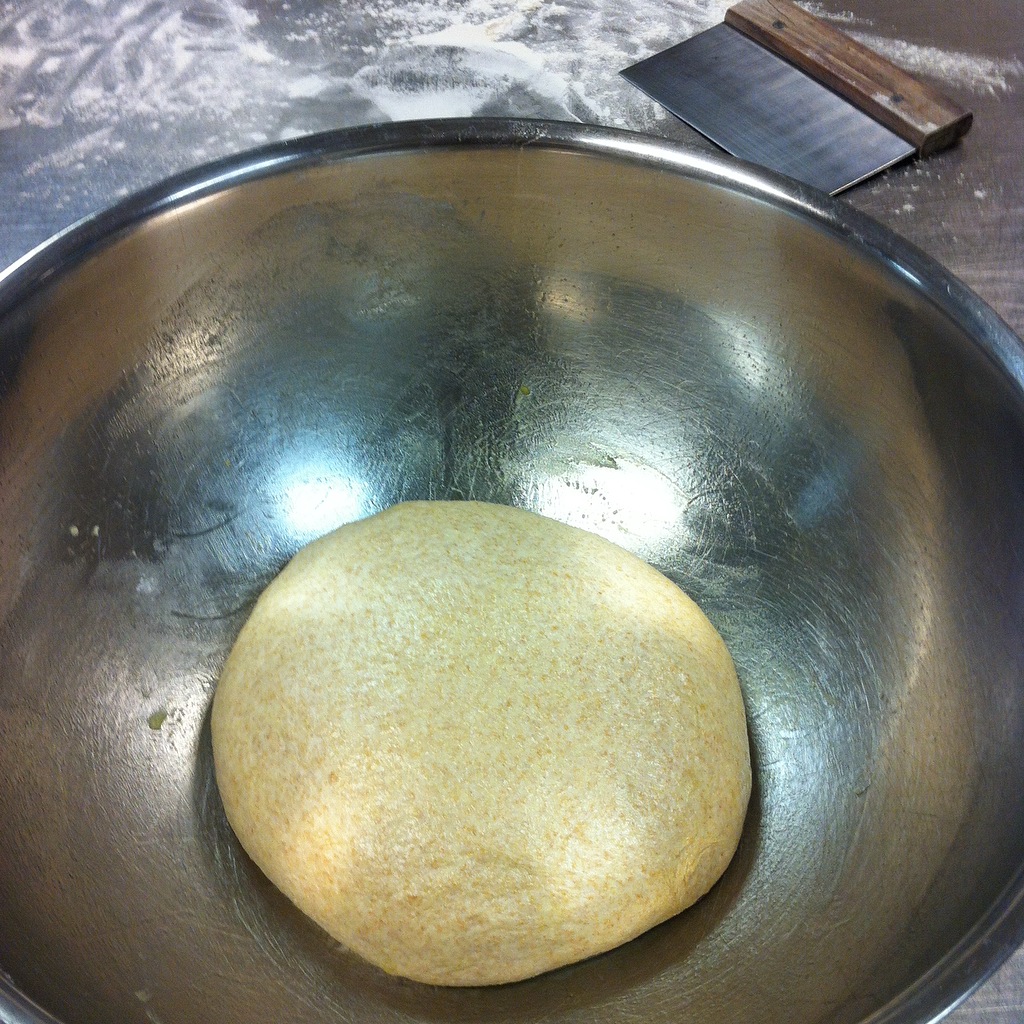 After the hour and a half has passed, put your pizza dough bowl into the refrigerator for at least 2 hours. Then, take the pizza dough out of the refrigerator at least two hours before you are ready to make your pizza. You have to get the dough back to room temperature before you will be able to work with it. During all of this time in and out of the refrigerator, the yeast will be working its magic on the dough. If you would like to know more about how yeast works on dough, Peter Reinhart has another book at explains it called, The Bread Baker's Apprentice.
Once your dough has reached room temperature and you are ready to make your pizzas, put a pizza stone into your oven and preheat the oven to 425 degrees. If you don't have a pizza stone, don't worry about it. You can still make pizza without it. I bake my pizza on the middle oven rack with a pizza stone. If you don't have a pizza stone, you might want to move your oven rack down a bit lower. Experiment with it to see which level turns out the best pizza.
Generously flour your work surface where you will be shaping the pizza dough. Remove your dough from the bowl as gently as possible and place it on your floured work surface. Using a bench scraper or sharp knife, cut the dough into four or six equal pieces. For me, since my pizza dough stretching skills are limited, six dough balls makes six personal sized pizzas, four makes normal small sized pizzas. If you are going for making those 18-inch pizzas, the you might want to just cut the dough in half. Form the cut pieces into smooth dough balls.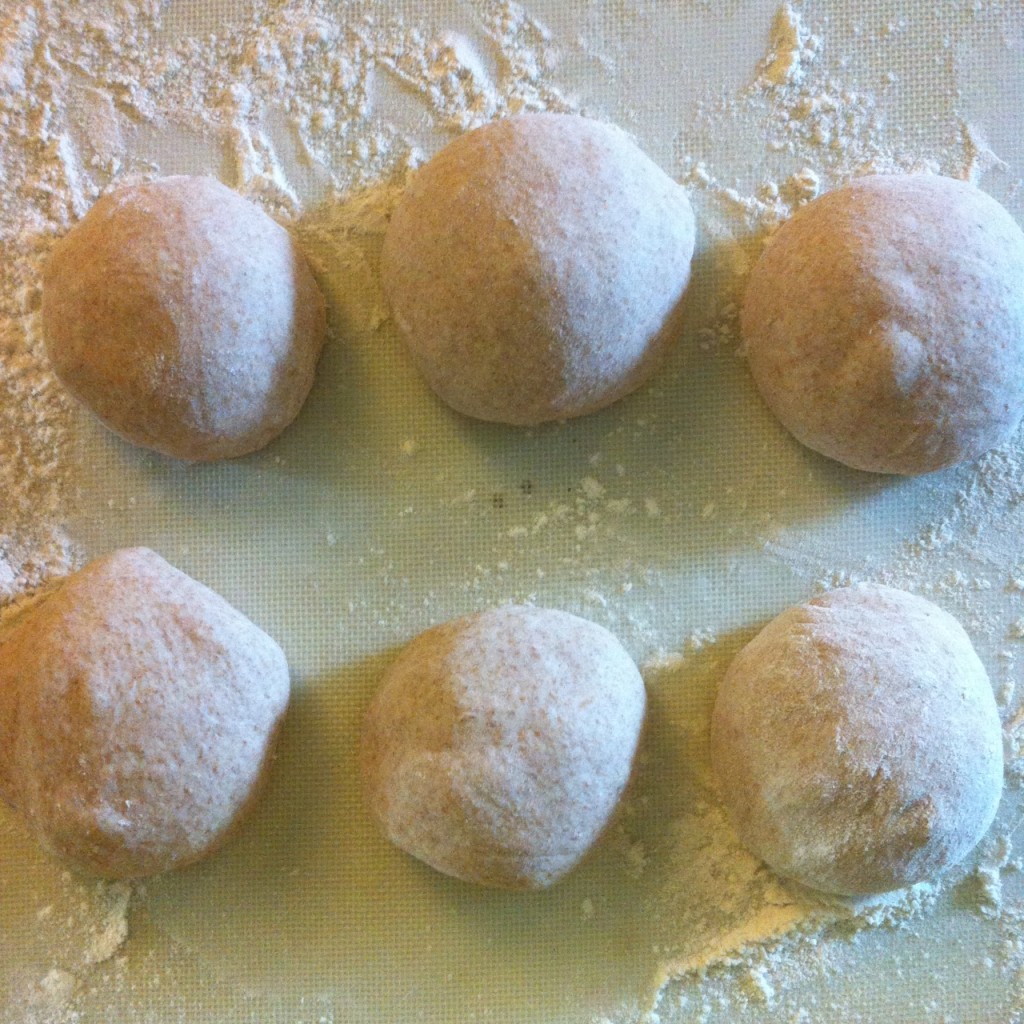 Take one of your dough balls and start stretching it evenly to form a circle. After a few, I decided that if I roll it with a rolling pin a bit, then work it with my knuckles from the edges, it turns out better. I even tried doing the pizza toss thing, and the dough held up fine. Just be sure you don't drop it on the floor. My advice is to shape the dough however it is the easiest and least frustrating for you. As you can see, my first one didn't turn out as a perfect circle.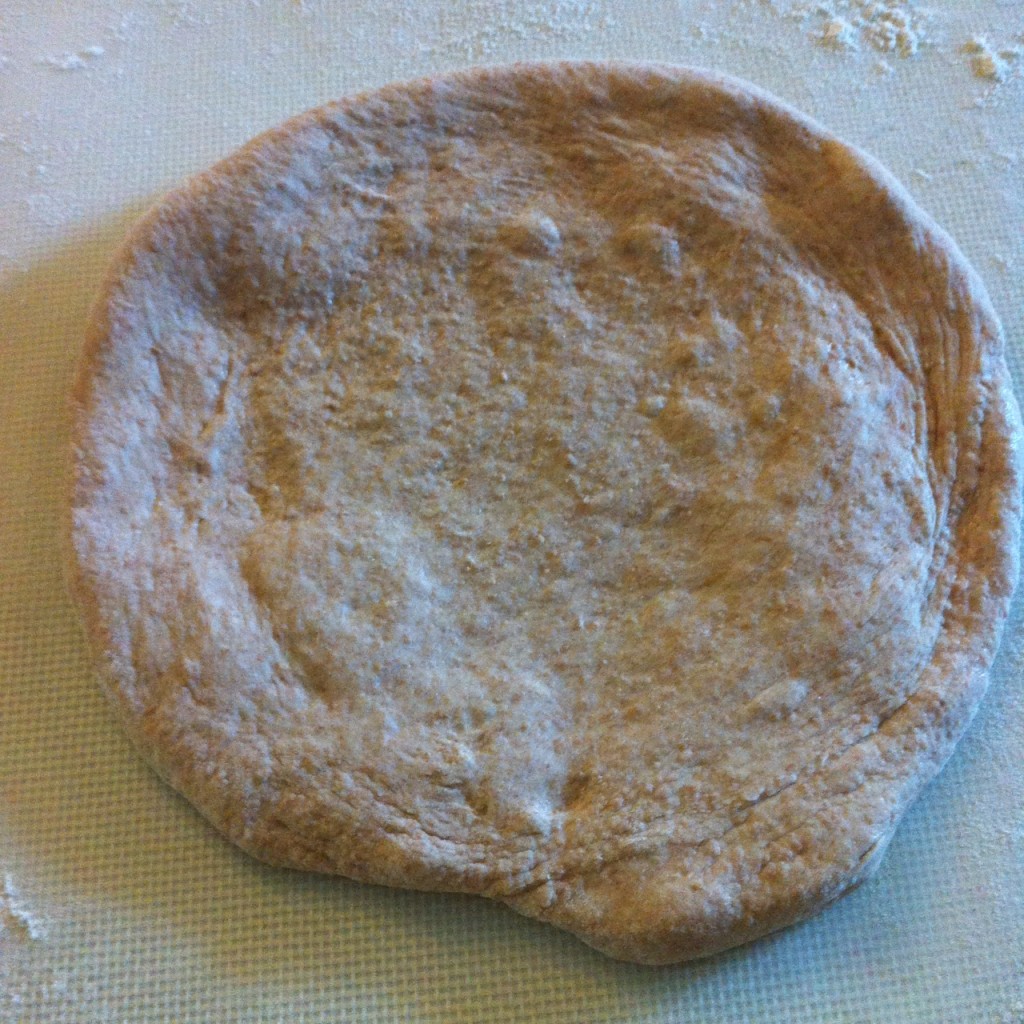 Once you have your dough formed, you have a choice. If you have a pizza peel and know how to use it. Then proceed with preparing that and all your toppings. I don't have a pizza peel. I have a pizza pan that has holes in it, so it still works on the pizza stone. If you have a pizza pan, then move your dough to the pan so that you can start putting on your toppings. Red sauce is not my favorite, so it is rarely on my pizza. Instead, I brush the dough with organic extra-virgin olive oil, sprinkle garlic granules and a little bit of sea salt over the whole thing and then proceed with the rest of my toppings. Pesto is another one of my favorites to use as a base sauce. You know what your favorites are, so do it the way you like it.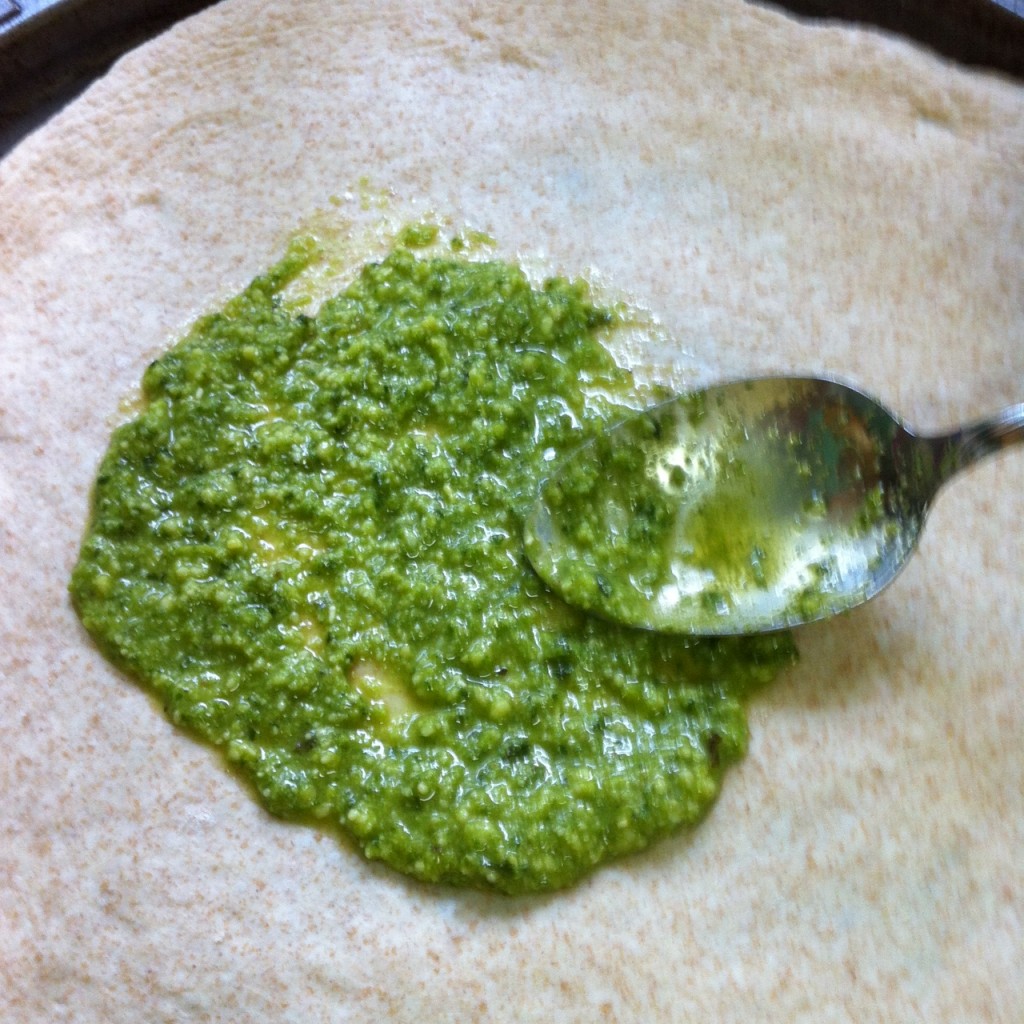 On this pizza, I went very basic and just used pesto, mushrooms and shredded mozzarella cheese. If only I had some sun-dried tomatoes!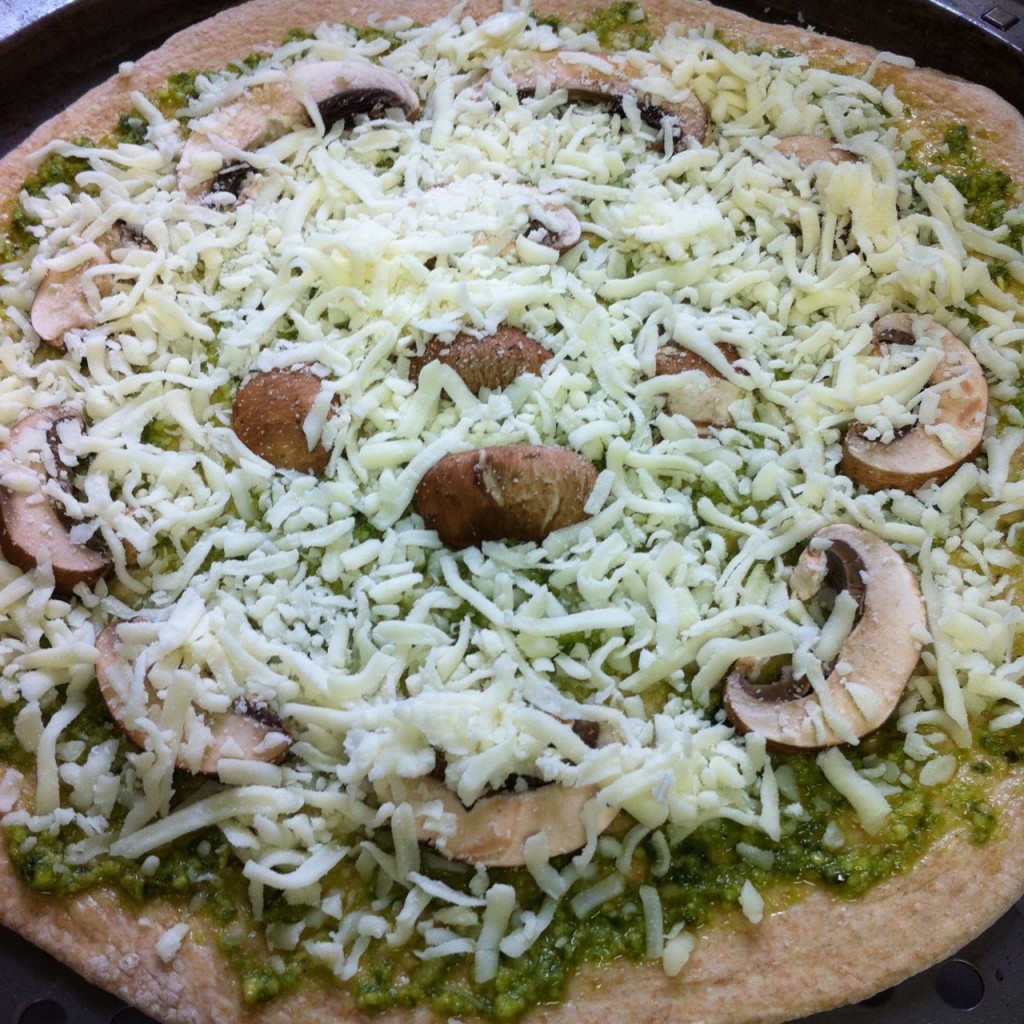 Bake your pizza in the oven, depending on the size of your pizza and the amount of toppings, anywhere from 10 to 15 minutes, turning halfway through for even baking. If you made your pizza crust extra thick, you may need to bake it longer. Or bake a shorter time if you made your crust really thin. Keep an eye on it. Pull it out when you think it looks like the perfect pizza to you. I like my cheese a bit on the well done side, so my finished pizza might not appeal to you, if you like yours cooked for less time. It's all about customizing it to your own taste. That's why you are making it at home. So you can get exactly what you want!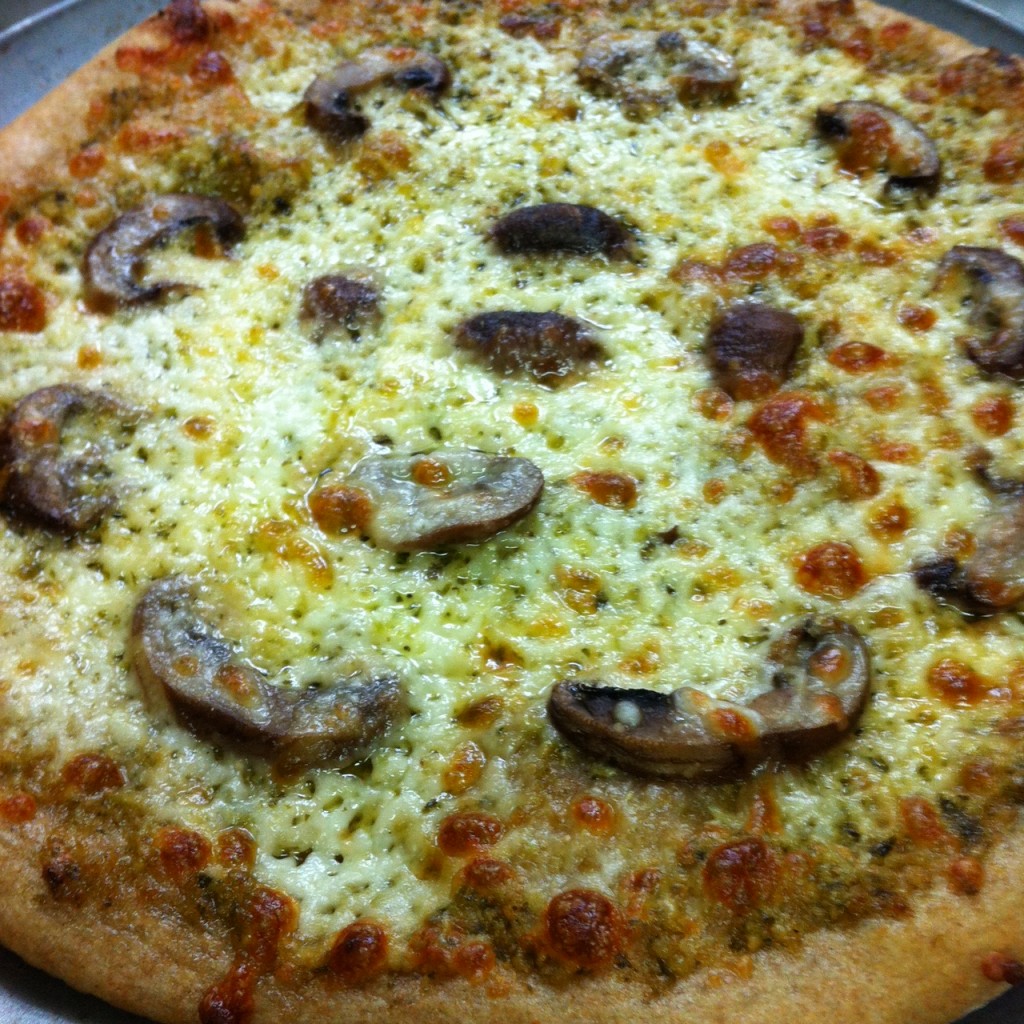 Organic Pizza Dough Recipe
12 1/2 oz. organic all-purpose flour
10 oz. organic whole wheat flour
1 Tbsp. sea salt
1 tsp. instant yeast
15 ounces water, room temperature
In the bowl of an electric mixer, combine water and yeast. In a large bowl, combine flours and salt. Mix flours and salt together well. Add the flour mixture to the yeast and water mixture. Using the dough hook, mix on medium speed for 4 minutes. Let the dough rest for 5 minutes. Mix again on medium-low speed for 2 additional minutes.
Turn the dough out onto a floured surface and work the dough into a smooth ball. Transfer dough to an oiled bowl turning to coat the dough on all sides. Cover the bowl with plastic wrap and leave in a warm, undisturbed area for 1 1/2 hours.
Move bowl of dough to the refrigerator for at least 2 hours. Remove dough from refrigerator at least 2 hours before you are ready to make pizza, to bring dough to room temperature.
Preheat oven to 425 degrees. Turn dough out onto floured work surface. Using a bench scraper or sharp knife, cut dough into 4 or 6 equal pieces. Form your pizza crusts. Top with your favorite toppings. Bake for 10 to 15 minutes depending on the size of your pizza and your own preferences. Remove from oven. Let cool 5 minutes. Cut and enjoy!