Here in Florida, it's still hot. Our Fall temperatures are in the 80s during the day and 60s at night. We occasionally get a few days when the highs are in the low 70s. But the way we really know that Fall is here is by the fact that everything becomes pumpkin spice. Yes, it's that time of year again!! Pumpkin spice everything season!! Maybe it's because my birthday is in October, but I love the Fall and all the pumpkin and spices that make Fall, Fall.
I used to go to Starbucks every year when they started having the pumpkin spice lattes. When you pay $5 or so for a cup of coffee, and the barista doesn't squirt enough of the magic pumpkin spice juice in your cup, you might feel like you got ripped off.
I have seen recipes for homemade versions of pumpkin spice lattes for years now, but they frequently used ingredients that I wouldn't use. I am very much a D.I.Y. type of person but hadn't tried my hand at this one yet.
A couple of weeks ago, while looking for a pumpkin cake recipe on my computer for my mom, I ran across a pumpkin spice latte recipe that I had saved who knows how long ago or from where. Since I had a couple of cans and a Tetra Pak of organic pumpkin, I decided it was now or never! I printed out the recipe and started experimenting the next morning and all of the mornings since with the recipe.
Before I get to the recipe, let me tell you that I almost got giddy when I was in Target and found that Libby's is now producing cans of organic pumpkin. For the last few years, I have been using the canned organic pumpkin that they have at Whole Foods. It's just not the same as the Libby's I always used in make my pumpkin pies before going organic. It tasted kind of like you just scraped out the inside of a not quite ripe pumpkin, finely pureéd it and then canned it. If you're looking for that green, fresh out of the patch flavor, but don't want to have to do the work, then by all means, buy that one. I actually used that one in my latte and pumpkin spice oatmeal that I made this morning, and it turned out pretty tasty. Target also has it's Simply Balanced brand of organic pumpkin in a Tetra Pak. And now the Farmer's Market brand comes in Tetra Paks too. Tetra Pak is the thick paper type of container that those quarts of soup broth come in. So there are a variety of different brands of organic pumpkin you can buy.
Now let's talk about coffee. I buy organic Cuban style coffee at Costco. The brand is Mayorga. I usually grind a weeks worth of beans at a time at home in the coffee grinder and keep them in an airtight container. I don't have one of those counter top drip coffee makers. I have tried all kinds of ways of preparing coffee. I have had various and sundry different drip coffee makers. I have had a French press. I drank coffee made with a chorreador in Costa Rica. I have had coffee from perkolators. I finally settled on the right kind of coffee maker a few years ago, and now own two, one for home and one for work. It's the Italian coffee maker. I bought both of mine at IKEA for two reasons. First, it is stainless steel. Many that you will find out there are aluminum. Second, it only sets you back about $20 for one. And because there is no electricity or anything involved, it will last many years. The only tricky part may be finding gasket replacements. It is really an espresso maker and is supposed to make 6 cups of espresso. It makes two cups of coffee for me. The following recipe will make two cups of organic pumpkin spice latte.
Organic Pumpkin Spice Latte
2 cups organic whole milk
organic sugar to taste
2 to 3 Tablespoons organic solid pack pumpkin (amount you use depends on your taste)
1/4 teaspoon organic ground Ceylon cinnamon
1/8 teaspoon organic ground ginger
1/8 teaspoon organic ground nutmeg (or microplane the equivalent from a whole nutmeg, eyeball it)
1/8 teaspoon organic ground turmeric (I add this for health benefits, you don't really taste it)
1/8 teaspoon organic ground clove
1/2 to 1 teaspoon organic vanilla extract (I just pour out of the bottle without measuring. I have measured before and found that about 3/4 of a teaspoon seems to be perfect.)
Full pot of brewed espresso from a six-cup Italian espresso maker
Combine all ingredients except vanilla in a heavy saucepan and stir with a whisk. Heat until mixture starts to steam. If you have a milk frother, please use it here and froth up your milk. I don't have one, so my lattes have no fun foam effect, but they still taste great! You need to have large coffee mugs here. Pour half of the espresso into each of two mugs. Top with half of the pumpkin spice milk mixture. Enjoy!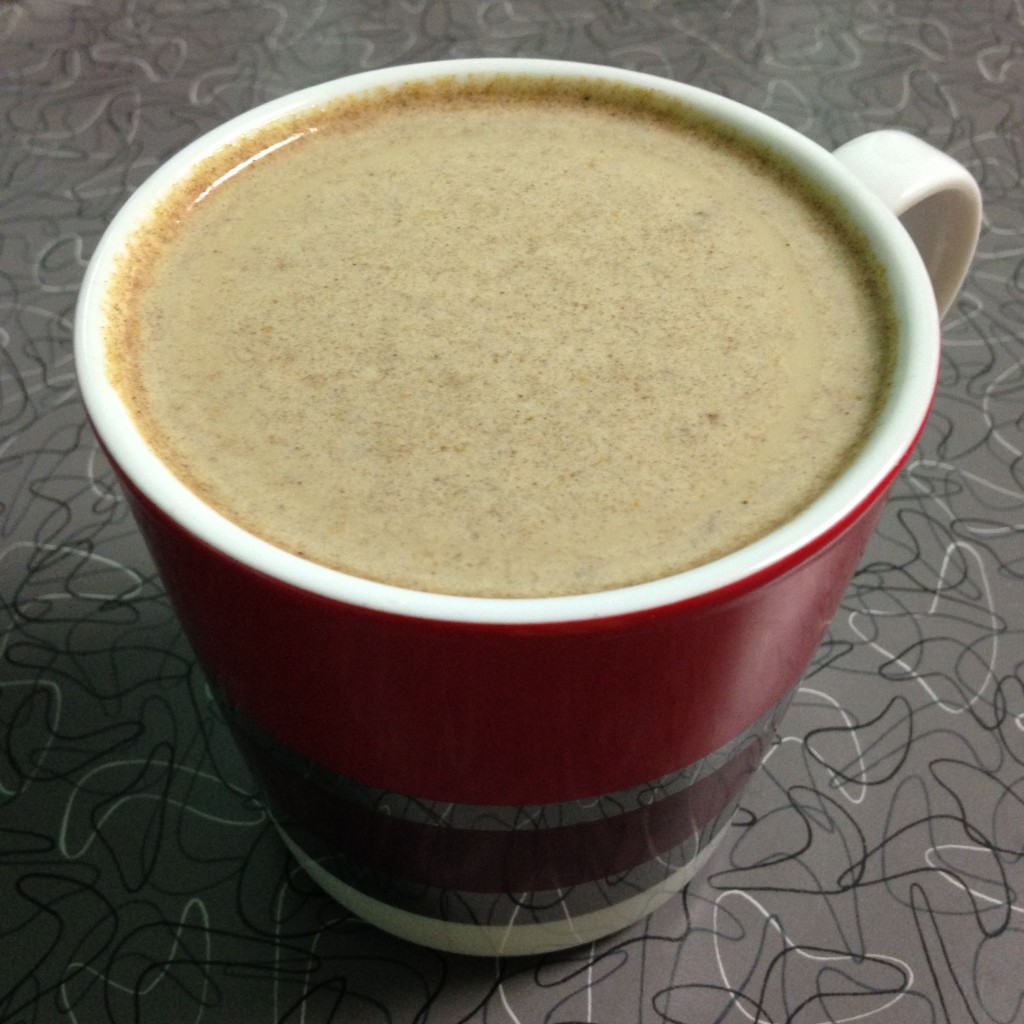 I have made this without the pumpkin, and without any type of sweetener and have enjoyed it. Depending on how much pumpkin you put in your coffee, your latte may become quite thick as you reach the bottom. If the accumulated spices and pumpkin that settle to the bottom of your mug bother you, feel free to strain the milk mixture as you pour it into your coffee. This recipe is a result of a couple of weeks of working with and tweaking the original recipe I had. I haven't had a Starbucks pumpkin spice latte for years. Truth be told, I'm not sure I would like them any more. My tastes have changed considerably since switching to organics. But this recipe turns out a really good version that my tongue now thinks a pumpkin spice latte should taste like. For those of you who still get the ones at Starbucks or anywhere else that has them nowadays, give it a try and let me know how this recipe measures up.