No, I have not gone Paleo. But I have decided to cut out grains, sugar and dairy. I am two weeks into it at this point. I did this a little more than a year ago for about three months. I'm hoping to stick with it this time for good, only cheating on special occasions, like birthdays and holidays. What's the difference between what I'm doing and what Paleo dieters are doing? I eat beans and potatoes and don't use honey or maple syrup.
When I tell people that I have gone grain-free, sugar-free and dairy-free, they usually respond with, "What's left for you to eat?" That's kind of how I felt when I first did this last year. But you still have meat, eggs, fruits, vegetables, beans, potatoes, nuts, seeds and oils. Eating is very important to me, so I figured it out pretty quickly. There are actually lots of things left to eat. And I find that I get a lot more creative eating this way. And if you're a self-professed sugar addict like me, you are going to get a bit crazed trying to get a sweet fix. This is where my creativity really comes out. Usually on Saturday or Sunday mornings I will make a special breakfast for my family. It's usually some type of special pancakes or muffins. This morning I wanted to make a special breakfast that I could eat, but that the whole family would also enjoy. I researched several recipes and this is what I came up with. I plan on changing up the flavor combinations in the future and will post the variations as I come up with them.
I was really happy that everyone loved these muffins. My two year old ate two of them. My twelve year old ate three and probably would have eaten more if I had let her. And my husband asked what was in them, because they were so good. He couldn't believe it. I have a feeling that variations on these are going to be the normal breakfast around here for a while. Let's get to the recipe!
Organic Paleo Coconut Flour Blueberry Muffins
5 organic large eggs
3/4 cup organic apple sauce
1 organic banana
1/2 cup organic coconut flour (I use Nutiva)
1 tsp. baking soda
1 tsp. baking powder
1/4 tsp. xanthan gum
1 tsp. organic vanilla extract
1/4 cup organic extra-virgin coconut oil (melted or solid, doesn't matter)
1 packet of organic stevia
1/2 cup organic blueberries (I used frozen)
Preheat your oven to 400 degrees. Grease a 12 cup muffin pan or line with cupcake papers. Put all ingredients except blueberries into a bowl and mix with hand mixer or an immersion blender. You could probably do this quickly in a blender or one of those smoothie bullet-blender things also. Stir in your blueberries. You will end up with a thick but moist batter.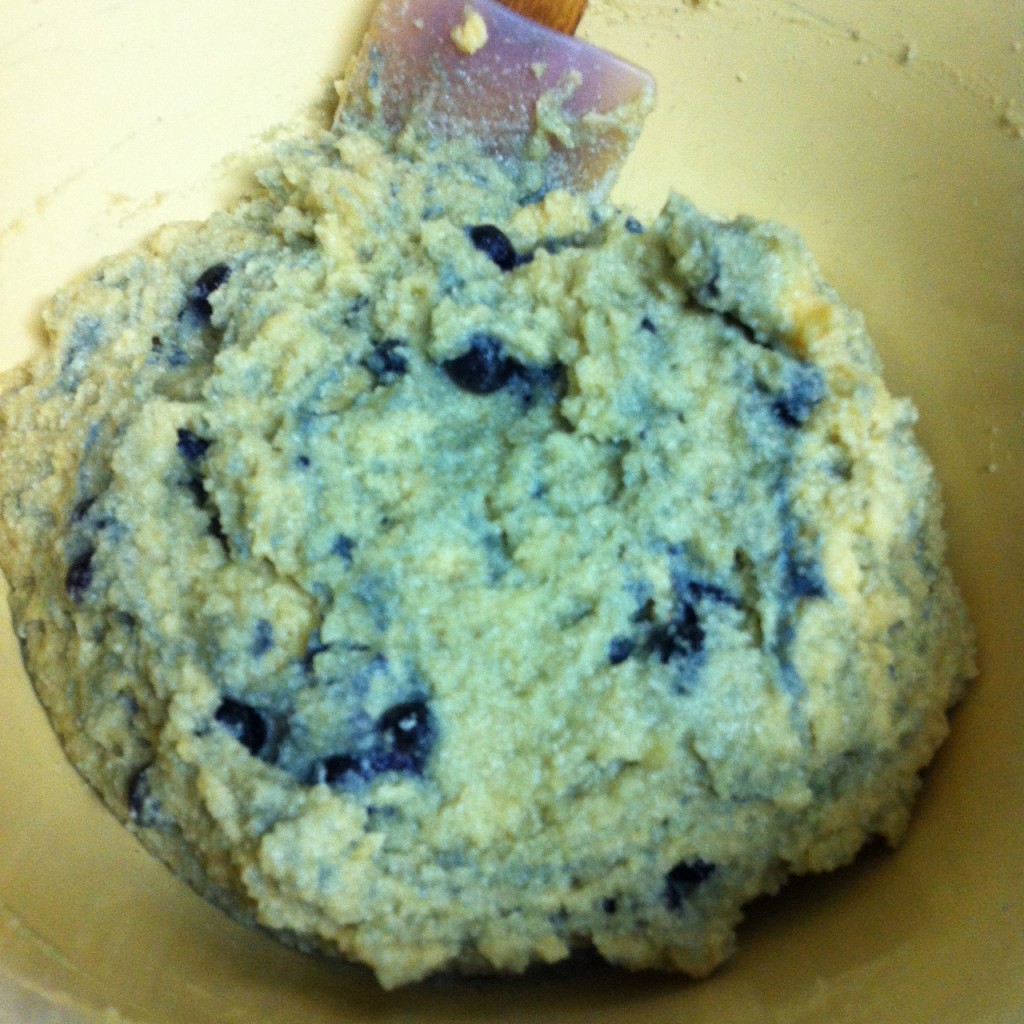 Spoon your batter evenly into the 12 muffin cups. I used a 1/4 cup ice cream scoop and a 1 tablespoon cookie scoop for each muffin.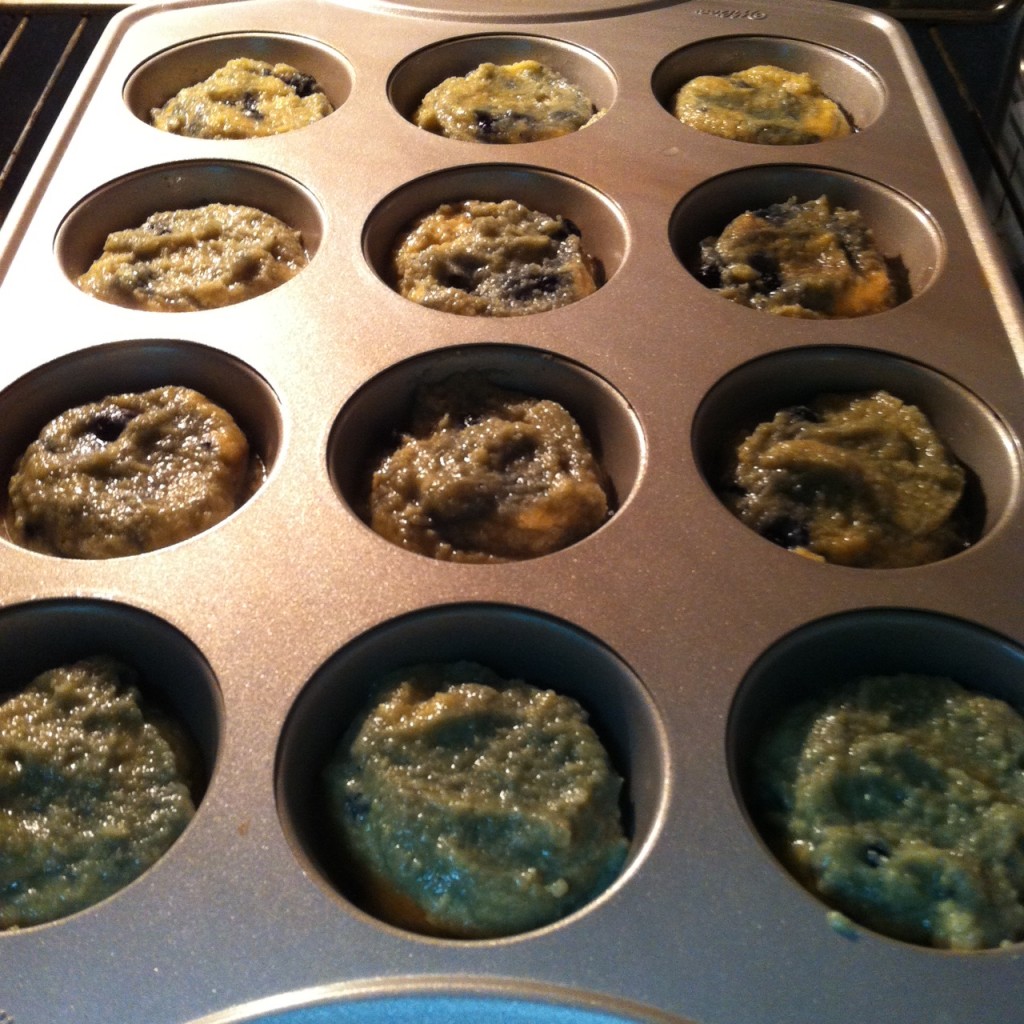 Bake the muffins for 15 to 20 minutes, rotating halfway through baking. When they are finished baking and cool enough to not burn your fingers, take them out of the muffin pan and put them on a cooling rack for a few minutes.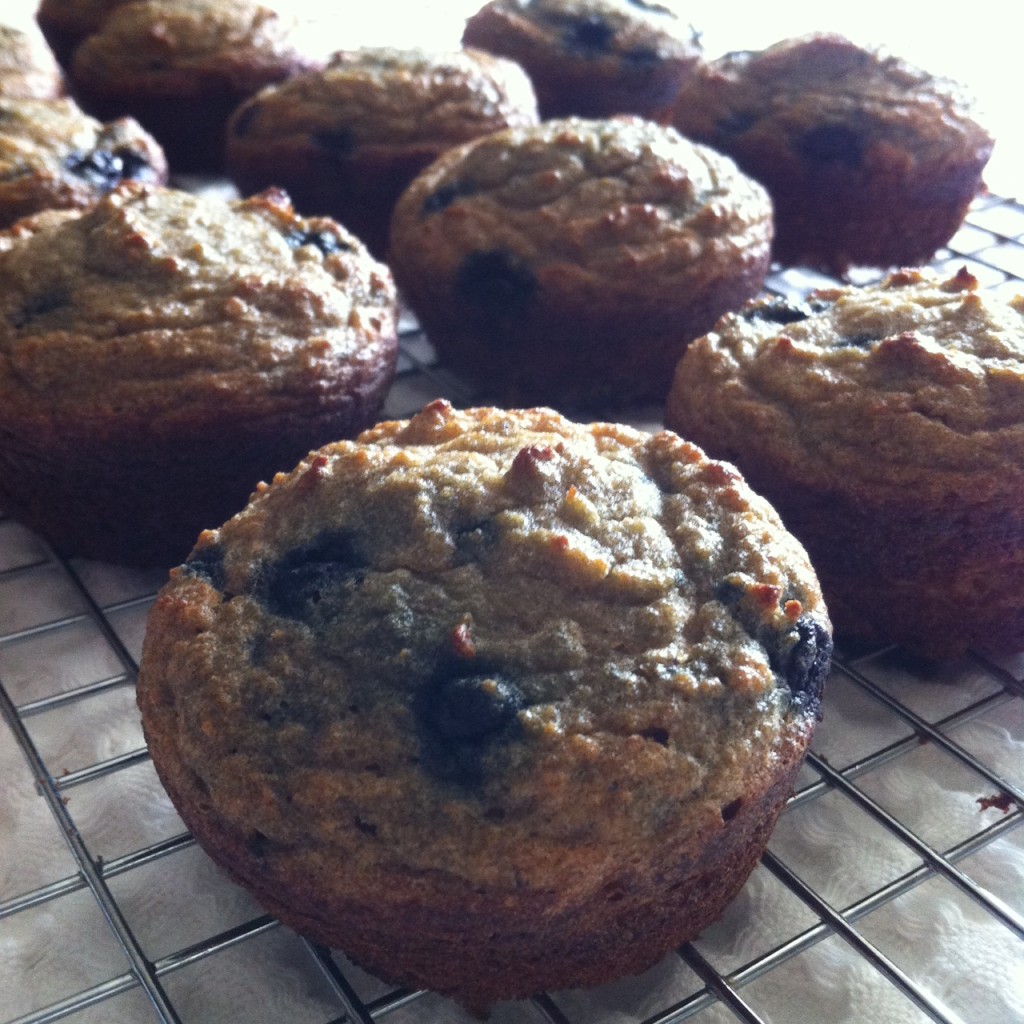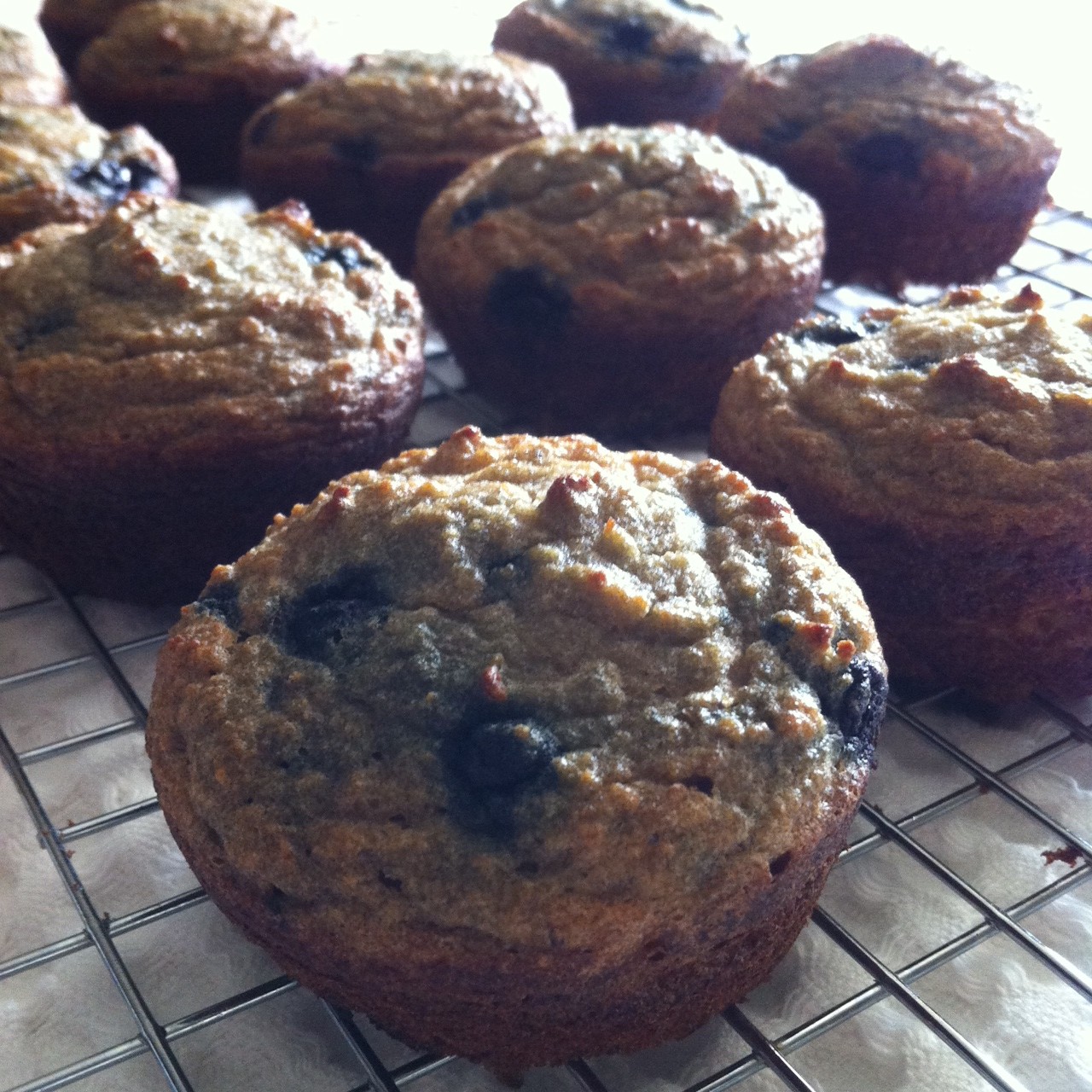 Place them on a plate and serve them to your family!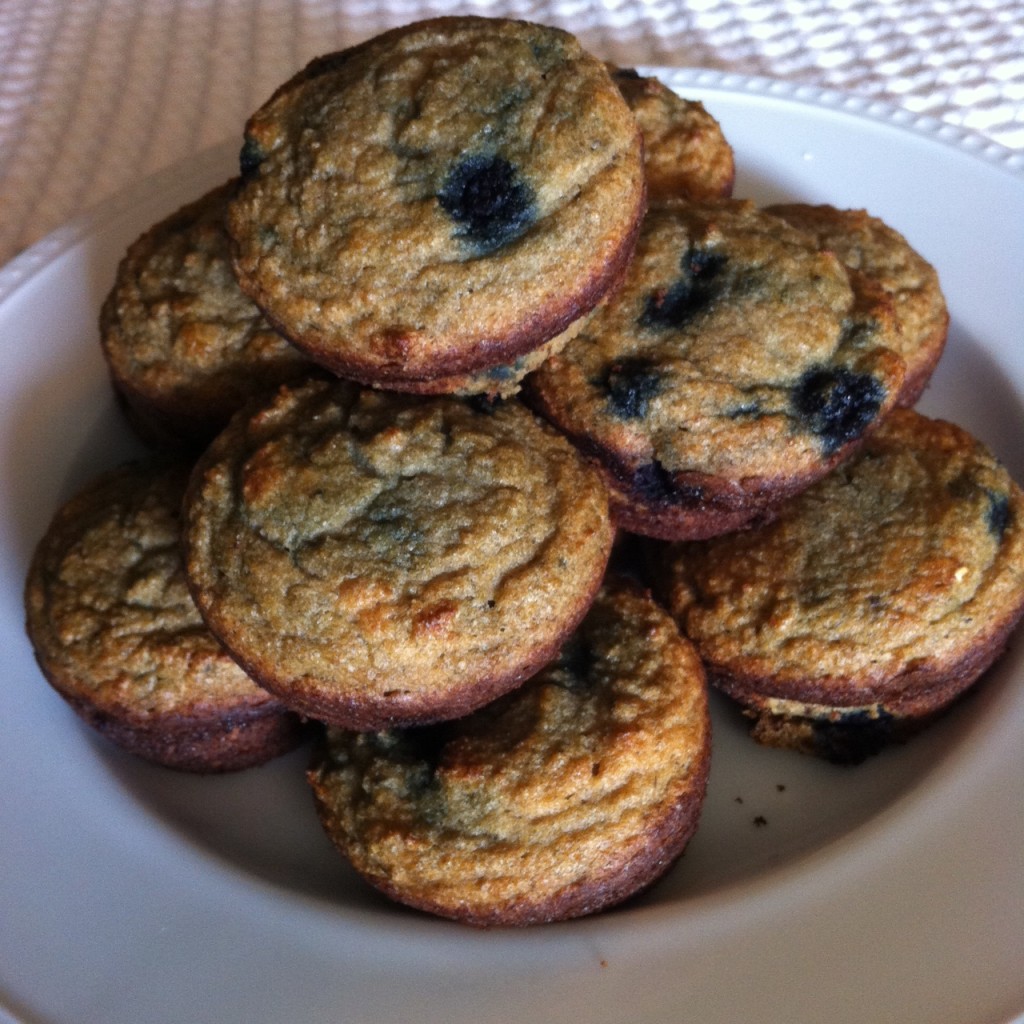 The muffins turn out very fluffy and moist, which is an amazing feat for a coconut flour muffin recipe. I'm still trying to figure out how to make them look as pretty on the outside as a traditional muffin. The inside is looking good though!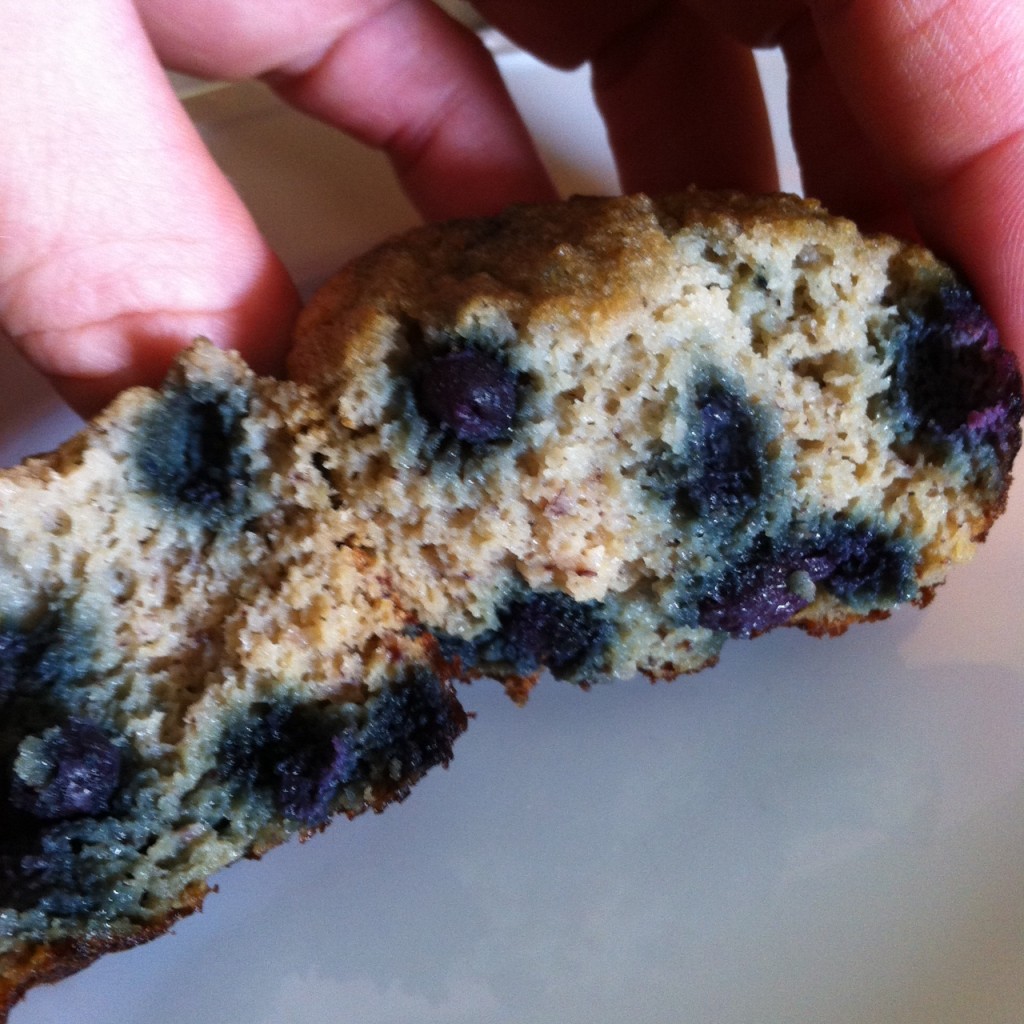 Here are some flavor variations. I will add more as I create and test them out.
Banana Nut: Leave out stevia and blueberries. Grind 1/4 cup raisins with a tablespoon of your already measured out coconut flour in a coffee grinder. Add your ground raisins, 1 tablespoon of organic Ceylon cinnamon before you mix. After mixing, stir in 1/4 to 1/2 cup of chopped walnuts or pecans.
Chocolate-Cherry: Leave out banana. Change it two packets of stevia and 1 cup of applesauce total. Add 3 to 4 tablespoons of organic raw cocoa powder and 1/2 cup of diced organic cherries.