It is strawberry season again. Strawberry season actually starts here around the new year. No matter what time of year it is, these strawberry cupcakes from scratch are sure to be a favorite!
Back in the days when I really didn't understand what kind of horrible things were in processed food, I had a recipe for strawberry cupcakes that called for a boxed cake mix and a box of strawberry Jell-O. My grandmother gave me this recipe. She had been using this recipe, I think, since the advent of boxed cake mixes and Jell-O. Everyone loved this strawberry cake. I used to get many requests to make it. I can't tell you how many times I made this recipe. If you have been my friend or worked with me in the past 10 years, chances are you have eaten it.
About four or five years ago, I started learning about the health risks of the ingredients in most processed foods here in the United States. I started reading labels and ingredients differently. I cleared out my kitchen and pantry. I converted a lot of my old recipes to fit the new, healthier lifestyle. The strawberry cake recipe was one that I had never been able to convert successfully. I refused to eat a boxed cake mix or Jell-O, not even for a treat.
Recently they were reading the book Pinkalicious in my youngest daughters preschool class. In this book, the main character turns pink from eating pink muffins. I imagine it was because she was eating the ones made with the artificial food dyes, but I digress. Anyway, they were going to have a Pinkalicious party on Friday. I didn't want my daughter eating anything artificially colored or any GMO garbage that I work so hard to keep out of our diets. Plus I didn't want her to miss out on the party fun. So I volunteered to make strawberry cupcakes for the party.
I had to make the cupcakes with the thing I already had on hand in my house. I didn't want to use a homemade cake that called for butter, because 1. it's expensive and 2. I didn't have much and I wasn't going to go to the grocery store to get any. So I had to look for a recipe for a homemade cake that uses oil instead of butter. I did an internet search and found a recipe on Rachel Ray's website for The Cake Boss' Vanilla Cake. Of course I can never leave well enough alone. I couldn't just use the vanilla cake recipe and just put strawberry frosting on top. Nooooo. I had never made this recipe without changing a thing to see if it actually turned out right or not. So I was keeping my fingers crossed that this would all work out.
I happened to have a box of Swan's Down cake flour that had been sitting around unopened and unused for what seemed like an eternity. I checked the date on the bottom of the box, and low and behold, it was coming up very soon. Now, I know that Swan's Down isn't organic. But this website is about realistic organic living. I could have used organic all-purpose flour, because I always have it in my pantry. But, I also didn't want to be wasteful and let the Swan's Down just get chucked in the trash. It only has one ingredient on the box, which is enriched cake flour. I figured it's not so bad. The Cake Boss' recipe actually calls for all-purpose flour, but I think cake flour turns out a more delicate crumb for your cake. You can use either one, if you don't have cake flour.
Strawberries had to somehow be added to the cake batter. Since puréed strawberries add more liquid to the recipe, I had to figure out how to subtract from the liquids that the Cake Boss' recipe called for and add in the strawberries. In all, my final recipe ended up having a 1/4 cup more liquid that the Cake Boss' recipe. But the cupcakes turned out really moist. Who likes a dry cake?
I won't bore you with any more of my mad scientist cupcake nonsense. Let's get on to the recipe, shall we.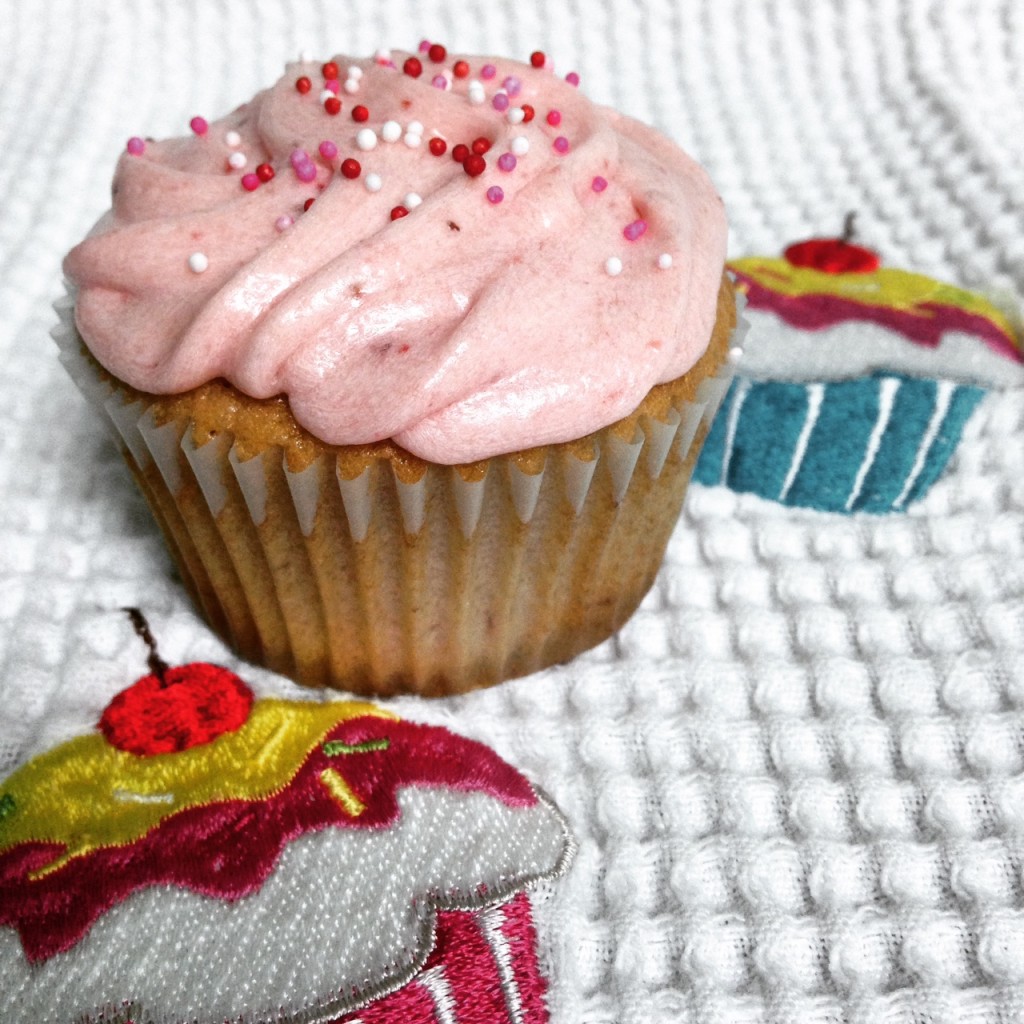 Strawberry Cake From Scratch
For the cake:
2 cups (14 oz. or 400 grams) organic sugar
4 organic eggs
2 1/2 cups (10 oz. or 283 grams) cake flour, organic if you have it
3/4 cup (6 oz. or 175 ml) organic whole milk
3/4 cup (6 oz. or 175 ml) sunflower oil, organic if you have it
1/2 cup (4 oz. or 120 ml) organic strawberry purée
2 1/4 teaspoons (11 ml) baking powder, non-GMO, like Rumford brand
1 teaspoon (5 ml) organic vanilla extract
Preheat oven to 350 degrees F (180 degrees C). If you are making cupcakes, this recipe makes about 30 regular sized cupcakes, so you will need enough cupcake papers and pans for that amount. If you are going to make cake, you can butter or oil and flour whatever size pan or pans you are going to use. You can make one 9X13-inch pan or two 8- or 9-inch round or square pans. Make sure when you grease your pans, don't miss a single little spot, because I promise you that it will stick right in that spot.
In the bowl of an electric mixer, beat the sugar and eggs together at medium to medium-high speed until it starts to thicken, anywhere from 1 to 5 minutes. While you are doing that, sift together your cake flour and your baking powder into separate bowl. Also prep your liquid ingredients. You can use one 2-cup measuring cup for all of your liquids. Once your sugar mixture has thickened up, add half of the flour mixture and mix on low speed while adding half of the liquid mixture. Stop the mixer and scrape from the bottom and down the sides of the bowl. Add the other half of the flour mixture, mixing on low speed. While still mixing on low speed, add the remaining half of your liquid mixture. Mix until combined. Don't overmix. Make sure you scrape the bowl up from the bottom and down the sides to make sure everything is well combined and mixed. Your batter will be rather on the liquid side.
For regular-sized cupcakes, scoop 1/4 cup (2 oz. or 60 ml) into each of the cupcake papers. Bake for 9 minutes, rotate pans and bake for an additional 9 minutes or until cake springs back when pressed lightly in the middle with your index finger.
If you are making cake, pour the batter into your pans. Bake 15 to 20 minutes, rotate pans and bake for an additional 15 to 20 minutes or until cake springs back when pressed lightly in the middle with your index finger.
For the frosting:
1 stick (4 oz. or 113 grams) organic butter, mine is salted
1 to 1 1/2 pounds (16 to 24 oz. or 450 to 680 grams) of organic powdered sugar
1/2 cup (4 oz. or 120 ml) organic strawberry purée
Put butter into the bowl of an electric mixer. Add one pound of powdered sugar and beat on low until it's obvious you need to add the strawberries, because it's too dry to do anything else. This won't take long. Go ahead and add the strawberries. Here's where the other half pound of sugar comes into play. If you want to make your frosting stiff enough to pipe onto the cupcakes a la swirly soft-serve ice cream cones, you'll be adding more powdered sugar. Add more powdered sugar a half of a cup at a time. This process takes time. To make creamy frosting, you need to beat it longer than you think you should. And the thing about the strawberry frosting is that the more you beat it, the more liquid it becomes. Thus the necessity of adding more sugar. You might even use more than a pound and a half to reach the right consistency for piping cupcake frosting swirls. For the picture of my cupcake, I could have definitely added more sugar. My swirls kind of melted. But I'm also kind of appalled at eating that much sugar at one time, so I opted for less sugar. You decide how much you want to add. Once you have reached the consistency you want for your frosting, go ahead and frost your cake or cupcakes.
Keep your finished cake or cupcakes in tightly sealed containers in the refrigerator. They are good cold or at room temperature. They will keep in the refrigerator for at least a week, if they stick around that long.
If you make this recipe, or any of my recipes, I would love to hear your experience. Please leave a comment below. Also, if you have any suggestions about what you would like me to write about, let me know.