Yes, you read that right. Vegan macaroni & cheese! Who doesn't love macaroni & cheese? It was one of the staples in our house before going vegan. And I don't mean that nasty instant junk from a box! So I was ecstatic when one of my Instagram friends sent me the link for the recipe of vegan macaroni & cheese that they use. We made it and, guess what? It's so delicious!! I will go so far as to say that, even if I decided not to be vegan any more, I would prefer this vegan macaroni & cheese to the traditional one made with cheese, butter and milk!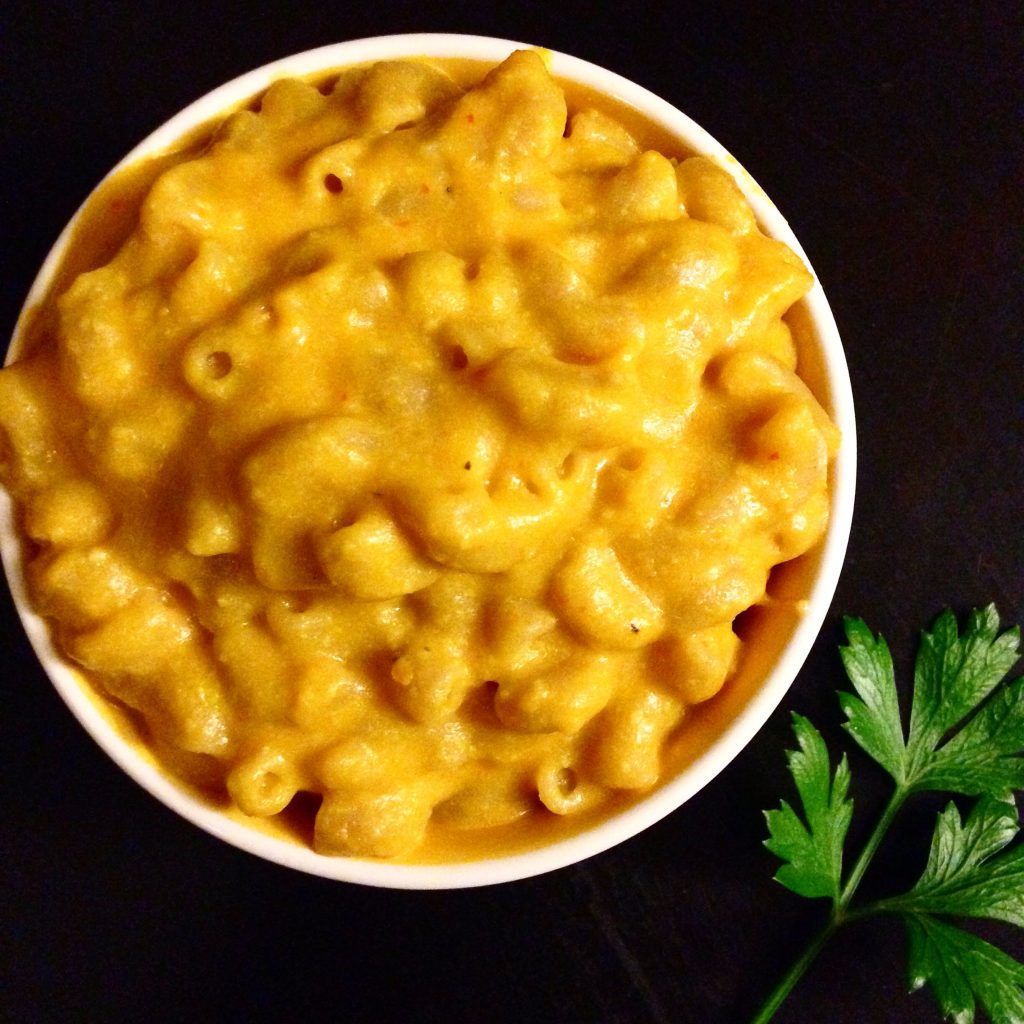 If you read my blog regularly or know how I cook, you know I'm not good at following a recipe as it is written. I tried to follow the original recipe as closely as possible the first time I made it. Especially since this vegan thing is still relatively new to me. If you want to see the VegNews recipe, click here. We liked it, but decided we would change a few things the next time we made it. I don't usually have shallots on hand, nor are they easy to find, so something else would have to be used. We have also never been the baked macaroni & cheese people. Why waste time and electricity baking when you can just eat it warm from the pot?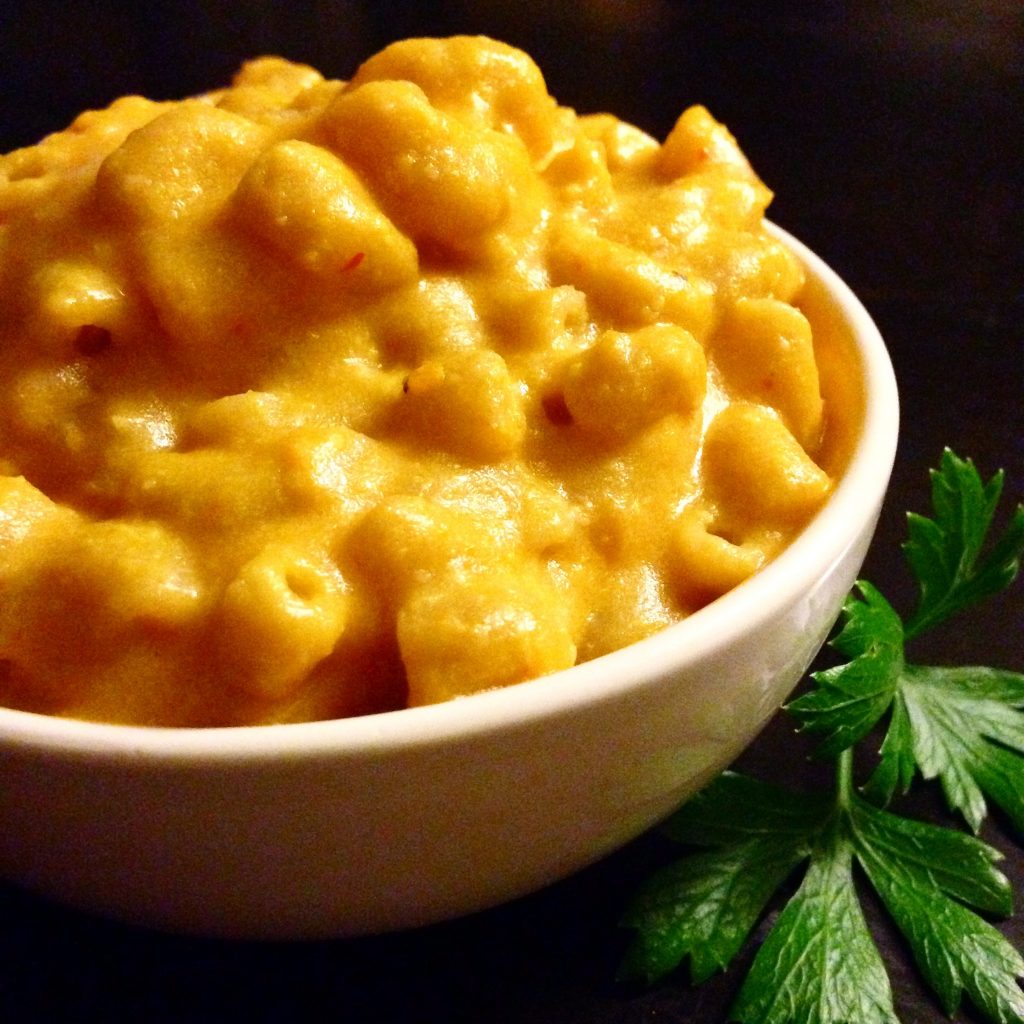 The following recipe is a variation of the original. I decided to use things that I always have on hand and to leave out the breadcrumb topping that causes it to require baking. I think pasta with breadcrumb topping is a bit redundant with the carbs. While I'm not a carb-o-phobe, I was always taught that you don't eat pasta, rice, bread or potatoes together in the same meal. The breadcrumb topping also adds extra fat with the margarine. So just skip it and make your vegan macaroni & cheese healthier and less complicated. And you'll notice that there are no cheese alternatives used in the VegNews recipe or mine.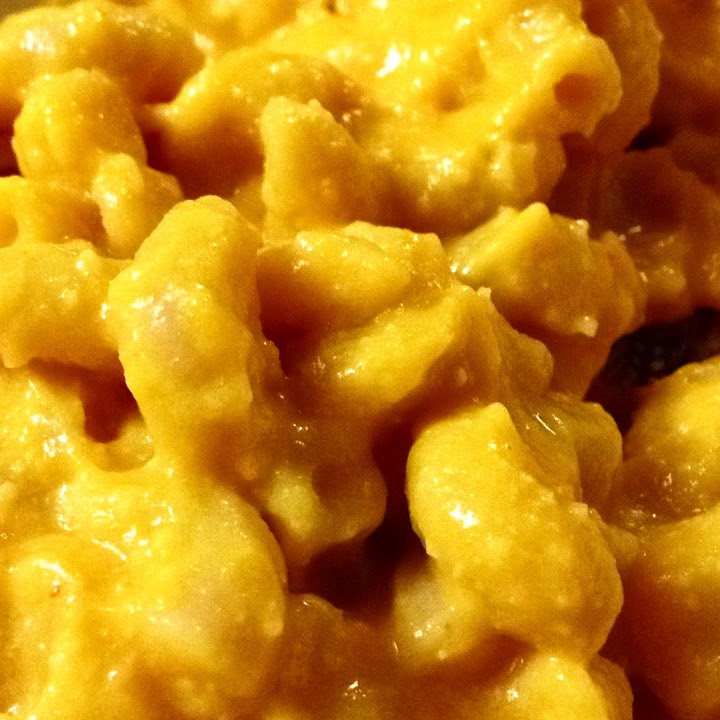 Vegan Macaroni & Cheese
For the macaroni:
4 quarts water
1 tablespoon pink Himalayan salt or sea salt
1 pound of organic macaroni noodles
To cook in a saucepan:
1 red onion, finely chopped
5 or 6 cloves of garlic, finely chopped
3 or 4 small organic yellow potatoes, cut into small cubes
2 organic carrots, washed and cut into small cubes
1/4 of an organic red bell pepper cut into small cubes
2 1/2 cups water
To blend in a food processor
1/2 cup raw organic cashews
4 teaspoons pink Himalayan salt or sea salt
3 cloves garlic, chopped
1/2 teaspoon organic Dijon mustard
1 tablespoon organic lemon juice, freshly squeezed
10 tablespoons (5 ounces, 140 grams) vegan non-hydrogenated margarine (I use Earth Balance Organic Vegan Buttery Spread)
1/2 teaspoon black pepper (optional)
1/4 teaspoon organic cayenne pepper (optional)
1 teaspoon organic turmeric
1/2 cup of nutritional yeast (A.K.A. nooch, which is also optional, but we love it, so we use it. If you don't use the nooch, reduce the water to cook the vegetables in the saucepan to 2 cups)
 
What You Do:
Make the macaroni first. In a large pot, bring the 4 quarts of water and 1 tablespoon of salt to a boil. Add macaroni and cook according to package directions. Drain pasta in a colander and rinse with cold water. Set aside.
Next, in a saucepan, add red onion, garlic, potatoes, carrots, red bell pepper, and water, and bring to a boil. Cover the pan and simmer for 15 minutes, or until vegetables are very soft.
In a food processor, process the cashews, salt, garlic, Dijon mustard, lemon juice, turmeric, black pepper, cayenne and nutritional yeast, if using. This will be really thick. Once the vegetables are ready in the saucepan, add them to the food processor and process until smooth, scraping down the sides as needed to make sure everything is well incorporated.
Pour the sauce into the pot you boiled the macaroni noodles in and add the macaroni noodles and stir until all of the noodles are covered in the sauce. Serve and enjoy!!
We love eating our vegan macaroni & cheese with steamed broccoli. What's your favorite pair to macaroni & cheese? I'm thinking about making this again and subbing some of the potato or carrot for sweet potato. I have also been thinking about throwing some fresh baby spinach in the food processor part. Always looking for ways to add more nutrition, while keeping it delicious. Let me know if you make this recipe. I would love to know your thoughts and if you changed anything. You may leave a comment below or tag me on your photos by following Organic Andrea on:
Facebook: @organicandrea1
Instagram: @organicandrea