Do you frequently have bananas that are past their prime? Tired of the same old banana bread? If you answered yes to one or both of these questions, Vegan Peanut Butter Banana Muffins is the solution! They are healthy enough to eat for breakfast, but delicious enough to eat for a snack, dessert or any time of day. I tend to think that making muffins is better than making a loaf, because they 1) take about half the time to bake as a loaf, and 2) are easy to portion, no slicing required.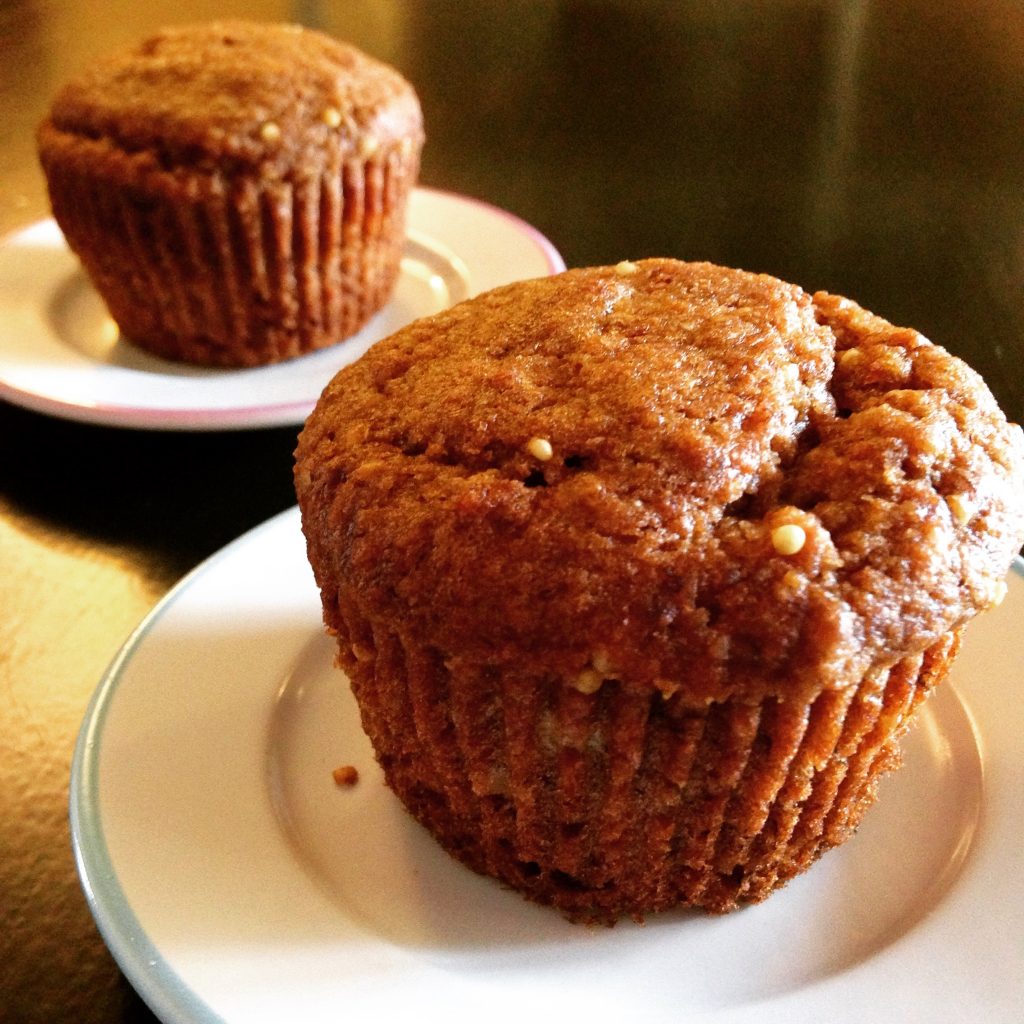 This recipe comes together quickly and easily. The best part is that you can mix it all in one bowl, so you don't have much to clean up. These vegan peanut butter banana muffins call for millet, which you probably do not have on hand. Yes, millet looks like bird seed, but it really adds a nice crunch to your muffins and makes them look prettier too. So don't leave them out. Make the extra effort to get your hands on some. You won't regret it. I have found that I like millet so much that I am trying to figure out ways to incorporate it into other recipes. You'll probably be seeing it here again in the future.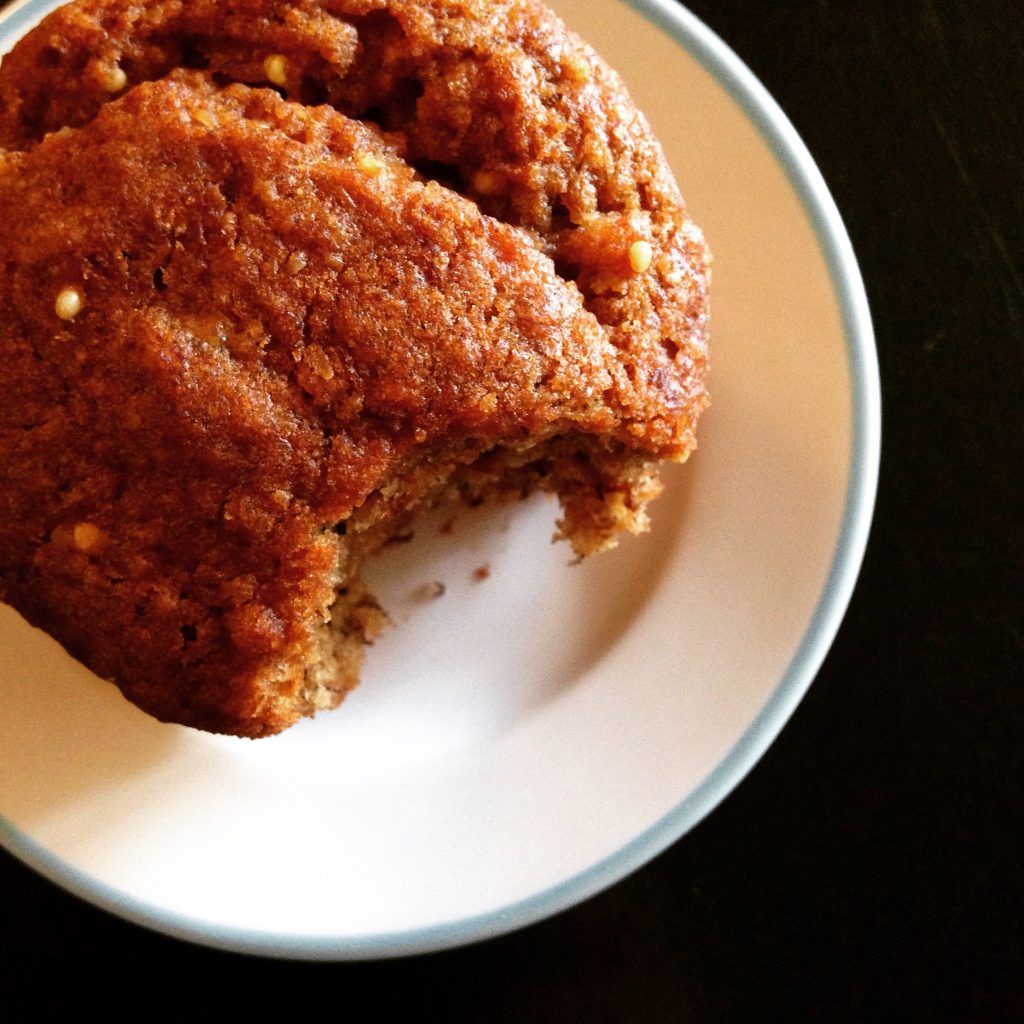 These vegan peanut butter banana muffins also call for that powdered peanut butter stuff. I avoided this stuff for quite a while, because it just seemed weird to me. But one day, while on Instagram, I saw a recipe where someone used the powdered peanut butter, and I knew I needed to get some. So far, I haven't been disappointed. PB Fit works great in this recipe, and I have also used it for a chocolate peanut butter banana smoothie. If you don't want to commit to powdered peanut butter, you can try using regular peanut butter, but I'm not sure what your results will be. Please let me know how it worked in the comments below, if you do decide to use regular peanut butter.
I am giving you weights for a lot of the ingredients in this recipe. If you haven't bought a decent cheap kitchen scale yet, what are you waiting for? Do it! You dirty a lot less dishes when you weigh your ingredients. That alone should be incentive enough. I have been through a few kitchen scales already and really like my current one, which I bought from Amazon. It is the Ozeri Pronto Digital Multifunction Kitchen & Food Scale, and currently costs $13.95. It weighs in grams, milliliters, pounds and ounces. The best part is that it takes regular batteries. All of the scales that I had in the past used the same type of batteries that wrist watches use. Those batteries are expensive, come in many different sizes and are a pain to find. So, please, if you haven't already, get yourself a kitchen scale.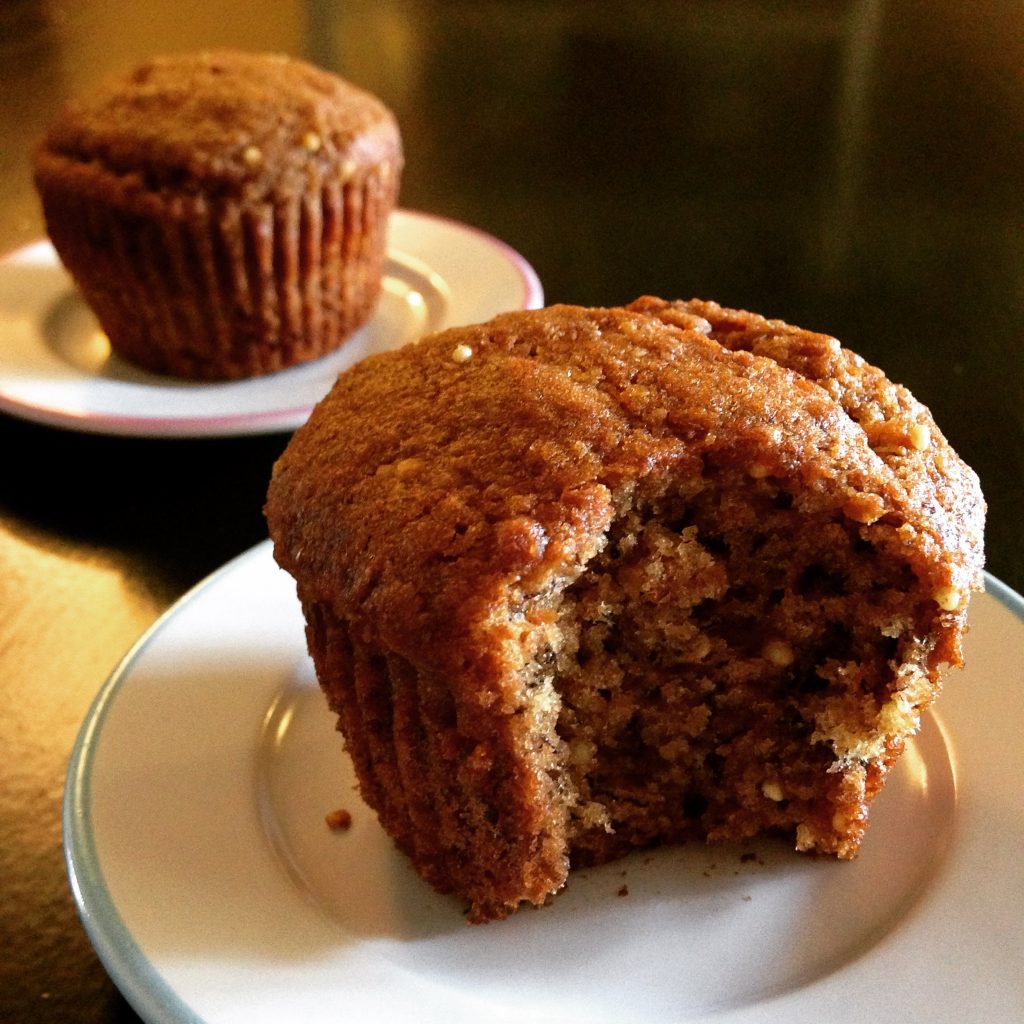 Vegan Peanut Butter Banana Muffins
300 grams (about 3) very ripe banana, mashed
120 grams (1/2 cup) organic sugar, (natural, light brown or dark brown, whichever you have on hand & want to use)
120 grams (1/2 cup) sunflower oil
2 Tablespoons organic flax seeds, ground (measure them whole and then grind them)
60 grams (1/2 cup) organic oat flour (I buy organic whole rolled oats and then grind them in my coffee grinder, usually at the same time as the flax seeds)
150 grams (1 cup) organic whole wheat flour
48 grams (1/2 cup) organic PB Fit (powdered peanut butter)
1/4 cup of organic raw millet (I buy mine dirt cheap in the bulk section of Whole Foods)
1 Tablespoon baking powder
1 teaspoon baking soda
1/2 teaspoon pink Himalayan salt or sea salt
1 teaspoon organic vanilla extract
Preheat the oven to 350 degrees Fahrenheit (175 C). Line a 12-cup muffin pan with cupcake liners.
In a large mixing bowl, mix together mashed banana, sugar and oil. Add the rest of the ingredients and stir until well combined.
Scoop your batter out evenly between the 12 muffin cups. It should take about 1/3 cup for each one. If you have a 1/3 cup portion scoop, it makes life easier. I don't. I have a 1/4 cup scoop, so I use that but scoop a little extra each time. Just do what you can to make them as much the same size as possible. They will bake more evenly that way and all finish baking at the same time.
Pop them into the oven. They will take anywhere between 20 and 30 minutes to bake. You will know when they are done with the old toothpick test. Take a toothpick and insert it in the center of the center-most muffin. If it comes out clean, then they are done. Make sure you rotate the muffins halfway through bake time. When they are finished, allow to cool in the pan for 5 or 10 minutes. Then remove them from the pan and place them on a cooling rack to finish cooling.
Enjoy them any time!