I know what you're thinking already. How can anything with "vegan" in the name taste good? "Vegans only eat beans, kale and alfalfa sprouts," I can hear you saying. Well, I'm here to fix that thinking for you. These vegan peanut cacao bliss balls really do taste good, and none of the ingredients are beans, kale or alfalfa sprouts. I promise.
Besides being super yummy, these little bites of deliciousness are also healthy and really easy to make. You only need five ingredients, and there is no cooking or baking required. And each ingredient has a myriad of health benefits. Let's go through some of them before we get to the recipe, shall we?
Peanuts, which have gotten a bad rap in recent years due to peanut allergies, are first. Peanuts are delicious, and I feel sorry for anyone who has a peanut allergy. They are rich in monounsaturated fat, which is the heart-healthy fat found in the Mediterranean diet. Peanuts also contain vitamin E, niacin, folate, resveratrol, oleic acid and antioxidants. And roasting peanuts actually boosts their antioxidant content. If you would like to read more about the health benefits of peanuts, please click here.
Cacao is next. Cacao is not cocoa, so please don't confuse the two. Cocoa is that bitter, processed powder that you have probably used to make hot chocolate or chocolate cake and/or frosting. You can actually use raw cacao powder in the same recipes, but the difference is notable. Since I found raw, organic cacao powder on Amazon, I haven't even considered ever using cocoa again. If you would like to know, I buy Healthworks Raw Certified Organic Cacao Powder on Amazon. It's a fantastic deal! This stuff is truly a superfood. Cacao contains high levels of powerful antioxidants that have numerous health benefits. If you would like to read more about the health benefits of cacao, please click here.
Dates are used in this recipe as a binder and a sweetener instead of sugar. Plus, dates have the added benefit of having significant health benefits with which sugar just can't compete. Dates contain a variety of vitamins and minerals as well as fiber and have a long history of traditional uses. Modern research has backed up long standing beliefs about the fruit. If you would like to learn more about the health history and benefits of dates, please click here.
Honey is also used as a sweetener in this recipe. You have probably used honey to sweeten tea or lemon water when you have a sore throat. Besides as a sweetener, do you have any idea why you do that? It's not just to sweeten your beverage or to coat your throat. Honey actually has antibacterial and antifungal properties. Honey also contains vitamins, minerals and antioxidants. If you would like to read more about the health benefits of honey, please click here.
The last ingredient is vanilla extract, which, I have read, contains antioxidants and can boost mood and enhance mental performance. If you would like to read more about this, please click here.
See! I told you there would be no beans, kale or alfalfa sprouts!
Enough with how good it is for you. Let's get on with the recipe so you can find out how good they taste in your mouth!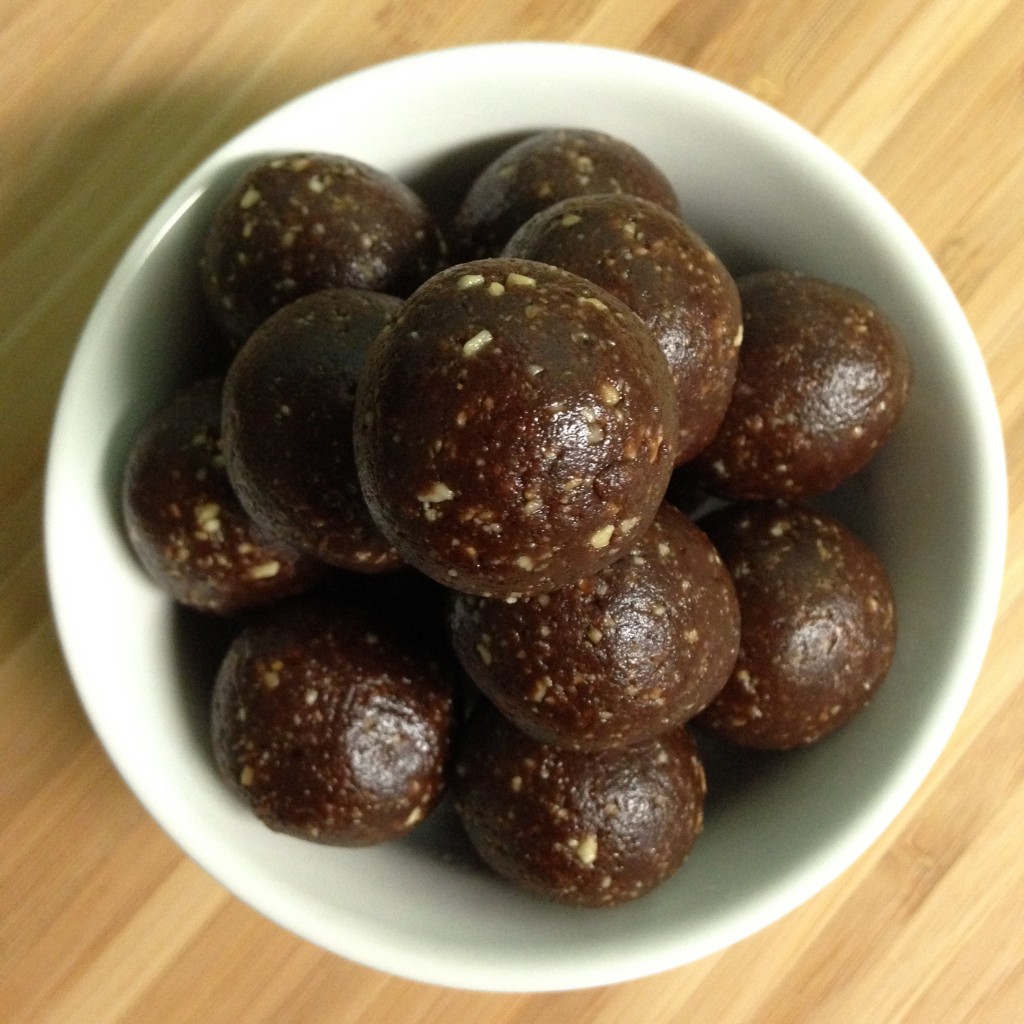 Vegan Peanut Cacao Bliss Balls
120 grams of roasted, salted peanuts
120 grams of pitted medjool dates
15 grams (2.5 tablespoons) of raw organic cacao powder
1 to 2 tablespoons of raw organic honey
1 teaspoon organic vanilla extract
Put peanuts, dates and cacao powder in the bowl of your food processor. Process for a few seconds to chop and mix everything up a bit. Add the vanilla extract and a tablespoon of the honey. Process on high for about a minute. Everything should be well chopped, combined and a loose dough should form. Pinch a bit into a ball and see if it will hold together. Have a taste and see if you want to add more honey or leave it the way it is. If it's not holding together, process it until you can get it to hold together.
Scrape everything out into a bowl and use a small cookie scoop to make equal sized portions.
Roll together in the palm of your hand to form a firm ball.
Once you have done this with all of the dough, for best flavor, refrigerate overnight. For some reason, these taste better after they have had a chance for the ingredients to blend together. So they actually taste better the day after you make them than right away. Eat and enjoy.
Keep any uneaten bliss balls in the fridge until you are ready to eat them. With the size I made, this recipe yielded about 25.
If you make this recipe, please let me know. Follow me @organicandrea on Instagram and tag me in your recipe photos. Also be sure to like the Organic Andrea Facebook page.