Everyone loves pancakes, right?! What about fluffy vegan pancakes? As long as you don't tell, no one will ever know!
Since going vegan, I have been working on several recipes to keep everybody happy. Because I'm the one who decides these things, my kids have gone vegan with me. The little one doesn't really have a clue and is adapting just fine. The older one though has made it known that she isn't exactly excited about it. She's a foodie, so I get it. Fortunately, she has tried out some of my other food avoidance adventures (think no dairy, grains or sugar) and has decided that this is actually much easier. Maybe she also thinks that this won't be long term, but I have no intention of ever giving this one up.
That said, I knew I was going to have to come up with recipes that would be healthy, delicious and satisfying. We love making pancakes on the weekends, so a recipe for fluffy vegan pancakes is a must. I did a lot of recipe testing. Just check out my Instagram (@organicandrea) account, and you will see several photos with lots of different sauce options. Also, on my Snapchat (organicandrea), I usually have short video clips that show the fluffy vegan pancake making in action, as well as other recipes I'm working on. So if you want a heads up about what kind of things you will be seeing here in the future, just look me up on Instagram and Snapchat.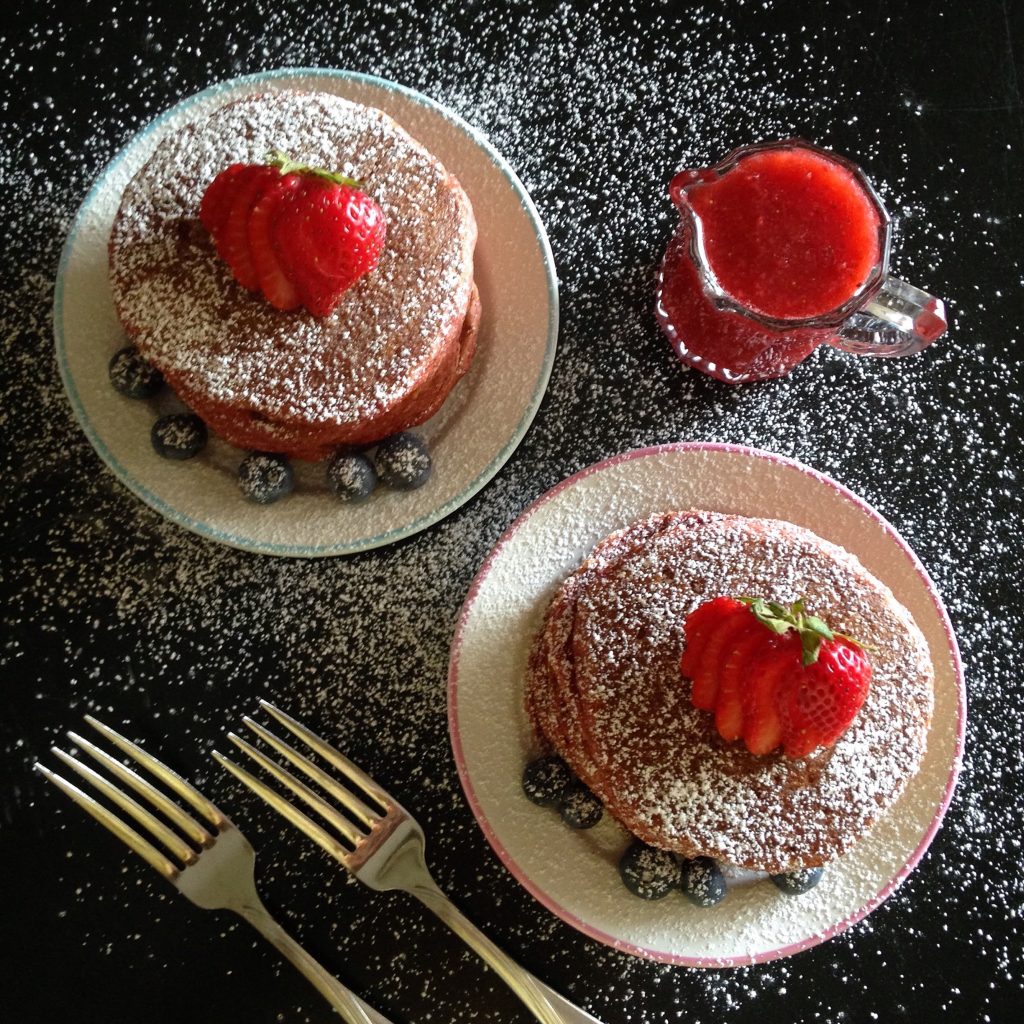 You should really give this recipe a try. It's amazing how good fluffy vegan pancakes can be. If you don't have a couple of the ingredients, do yourself a favor and pick them up next time you are at the store so you can make these. Once you try these pancakes, this will be your go-to pancake recipe. Don't forget to use as many organic ingredients as you can. So let's get on with the recipe!
Fluffy Vegan Pancakes
Organic Ingredients:
1 cup (4.25 ounces or 120 grams) whole wheat flour
1 cup (5.75 ounces or 165 grams) fine semolina flour
1 Tablespoon of baking powder
2 teaspoons of baking soda
1/2 teaspoon of pink Himalayan salt or sea salt
2 Tablespoons of golden flax seeds (measure and then grind in coffee grinder)
2 cups Soy or Flax milk (I haven't tried other types of milk, but if you prefer almond, coconut, cashew or some other non-dairy milk, give it a shot)
2 Tablespoons of maple syrup, agave or honey (I have used maple syrup and honey)
1 teaspoon vanilla extract
In a large mixing bowl, whisk together whole wheat flour, semolina, baking powder, baking soda, salt and ground flax seeds. In a separate bowl, whisk together the milk, maple syrup and vanilla extract. Pour the wet ingredients into the dry ingredients and whisk until combined. Leave the batter to sit for 10 minutes while your pancake griddle or non-stick pan heats up to about 350 degrees (175 C). After the 10 minutes, scoop 1/4 cup per pancake onto your cooking surface. As with most regular pancakes, you will see bubbles form on the surface of the pancake. When the pancakes start to dry on the sides a little bit, flip them over. The other side will take about half as long to cook as the first side. To keep the pancakes warm until all of the pancakes are cooked, place a plate or cookie sheet lined with a silicone baking mat in the oven and turn the oven on to the lowest heat setting. Place the pancakes in the oven until all are finished cooking. If you stack them in the oven, they may not be as fluffy when they are ready to serve as the weight will have smashed them down a bit. Serve with your favorite toppings. We used the organic vegan whipped Earth Balance spread for a butter alternative. This recipe makes 12 to 16 pancakes.
If you make this recipe or have any questions, please comment below. We will certainly be making these on a regular basis!